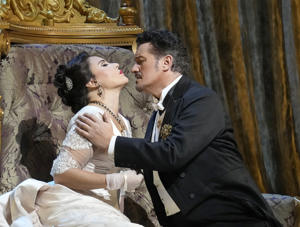 © Courtesy of The Associated Press Sonia Yonchava in Fedora, left, and Piotr Betsala in Loris Ipanov in Giordano's Fedora in this photo provided by the Met Opera. (Ken Howard/Met Opera via AP)
NEW YORK (AP) — Sonia Yonchava, a soprano at the height of her profession, is preoccupied with classical music.
"My son, when I ask him, he always says: 'I want to be like Ronaldo'. And then when I ask my girlfriend, she says: 'I want to be Lady Gaga and Beyoncé,'" the Bulgarian singer previously explained. premiere of Jordan's new production of "Fyodor" at the Metropolitan Opera on Saturday. "You really have nothing to do with classical artists. Times are changing."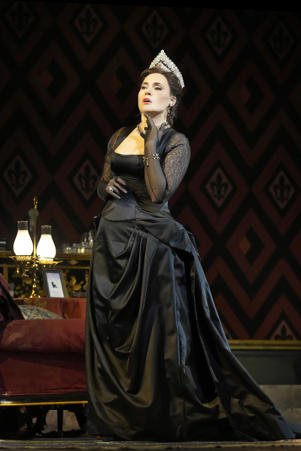 © Courtesy of the Associated Press Sonya Yonchava performs Giordano's opera 'Fiodor' in this photo provided by the Met Opera. (Ken Howard/Met Opera via AP)
To create projects and strengthen the opera audience, Yonchava founded his own label.
Yonchava has been with Sony Classical since 2013 and released The Courtesan on his SY11 Productions label, recorded with conductor Marco Armiliato, tenor Charles Castronova and the Orchestra of the Italian Opera Carlo Felice Genova. It will be released on February 9 on Amazon.
In a period of declining sales and releases of classical music, she was able to choose a selection and even a cover, provided she cooperated with Sony Records.
"I never had the chance to finish my project from start to finish," he said. "They've always been a great team for me, but I've never felt free."
In her first near-normal season since the start of the pandemic, Yonchava will sing a cover of Bellini's "Norma" at the Met beginning February 28, before making her debut as Madalena di Cuagna in "Andrea Chenier" of Giordano at La Scala in Milan. in March. 3. Mai and Ciao-Ciao-San in Puccini's "Madame Butterfly" at the Vienna State Opera on June 23.
"She is one of our most important entertainers," said Peter Gelb, CEO of the Met. "She's a wonderful actress and a great singer. She's the kind of artist we need now more than ever as we try to bring opera to a wider audience. It's very difficult because opera's core audience is very smaller than before".
Born on Christmas Day 1981 in Plovdiv, Bulgaria, Yonchava attended William Christie's Jardin des Voix in 2007 and moved to Switzerland to attend the Geneva Conservatory of Music.
"I wanted to come to the United States of America, but I was never able to get a scholarship," she said. "At that time, a normal Bulgarian's salary was $60 a month. So if you compare it to what you have to pay at a university in the US, it's just too expensive, so I had to choose Europe. Someone he gave me a bag with the name of a high school in Geneva, and the person said, "You should go there," and I said, "OK."
In 2010 she was the first woman to win Placido Domingo's Operalia competition and made her debut at the Metro and the Royal Opera (2013), the Vienna State Opera (2014), La Scala in Milan and Paris (2017).
Yonchava starred in the 2017 Paris production of Puccini's La Bohème as Claus Guth's infamous spaceship.
"It was such a nightmare," she laughed, "but a lot of people are still talking about it."
He has become more demanding of directors.
"Maybe they have an idea, fine, but I want them to believe it and be honest and tell me why," she said. I have to believe it, but sometimes it happens by itself, they don't believe it and then they do it to provoke".
David McVicar conducts Fyodora in his 13th Met production – an upcoming production of Ponchielli's Giaconda – in a rather traditional setting. Yonchava made her debut at La Scala on October 15 in Mario Martone's modern outfit and was afraid of being overheard.
"The director decided to leave the whole stage empty. Roberto Alagna and I fought all night to find Punta Callas, Punta Caballe, Punta Tebaldi, Punta, I don't know who," said Yonchava, referring to the so-called show. favorite places of Maria Callas, Montserrat Caballe and Renata Tebaldi for decades. First.
"I finished the production and I was like, 'Oh my God!' What am I going to do at the Met? because the Met is probably three times the size of La Scala," Yonchava said. "I immediately called David and said: 'Please tell me there are walls.' And he said yes. He showed me the picture and I felt reassured."
His leading role at the Met is tenor Piotr Betzala. They have worked together for ten years.
"Our voices are very similar," Betzala said. "I'm from a lyrical angle and she's from a lyrical angle, now I'm coming for a bit more of the postponed repertoire".
When the Met abandoned plans to cast Yonchava in John Carigliano's The Phantoms of Versailles and Madame Butterfly, it undertook a new production of Verdi's Bal Masque and a revival of The Queen of Spades (Dame "Picci"). " and Tchaikovsky's Cherubs. "Medea" in Italian.
She lives near Geneva with her husband, conductor Domingo Hindayan, whom she met at school. 8-year-old son Mateo and 3-year-old daughter Sofia are taking care of them, while the whole family is away in NYC for a long period.
The daughter of Yonchava sees her career a little differently from the opera audience.
"I ask her what her father is doing and she starts driving," Yonchava said. "And then I ask her what her mom does, and she says, 'Oh, mom, I'm Elsa from Frozen, because I dress like a princess and I sing like a princess.
A Beginner's Guide to… Traviata