The AYANEO SLIDE handheld is where retro gaming meets the cutting-edge technology. Offers users a powerful yet compact portable computer system and handheld games console that is now available for pre-order on Indiegogo. At the heart of the AYANEO SLIDE's design is its innovative adjustable floating screen.  This innovative feature allows gamers to tailor their viewing angle anywhere from a flat 0° to an elevated 30°, ensuring optimal visibility and comfort during marathon gaming sessions. The screen's automatic spring mechanism is engineered for smooth and precise adjustments, so you can effortlessly find your ideal angle without interrupting your gameplay.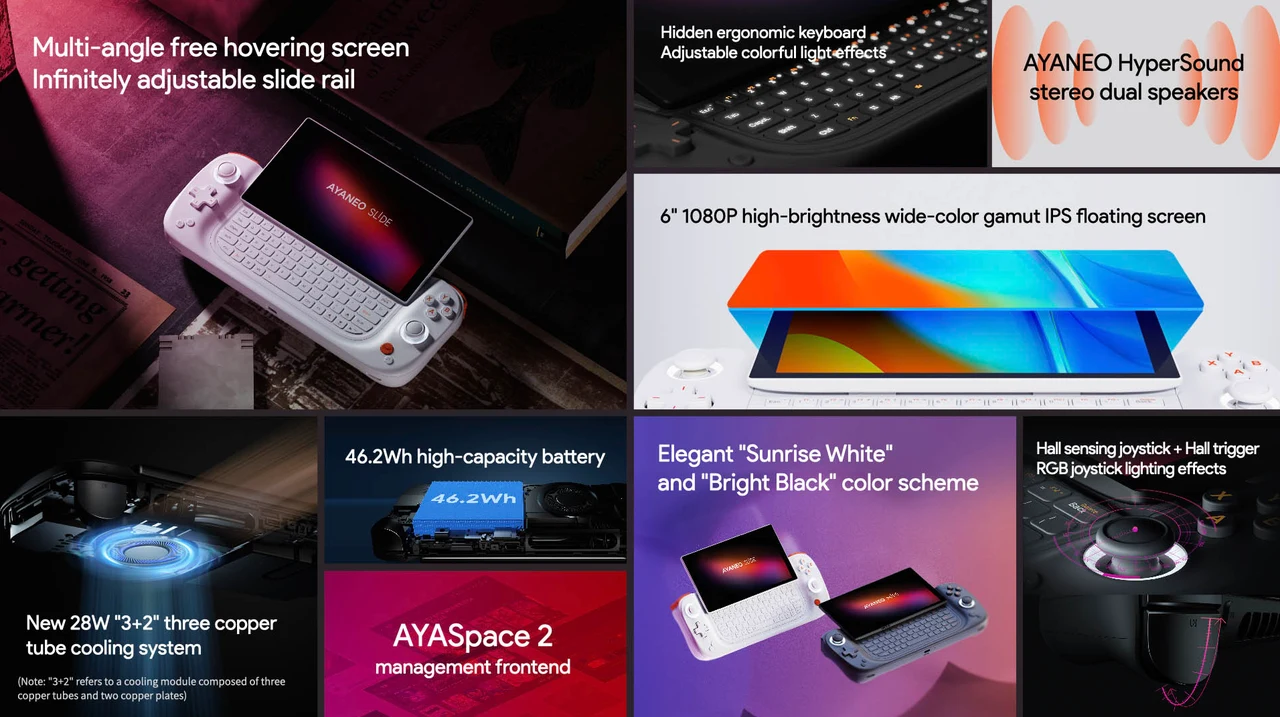 The visual experience on the SLIDE is nothing short of stunning, thanks to its 6-inch IPS display that boasts a full HD resolution of 1920×1080. This screen is a visual powerhouse, with 368 pixels per inch delivering sharp, detailed images. The display shines bright at 400 nits and covers an impressive 120% of the sRGB color spectrum. With a contrast ratio of 1000:1, the colors pop with vibrancy, making every game you play a visually captivating experience.
But the AYANEO SLIDE handheld games console isn't just about the visuals; it also features a feature-rich RGB backlit keyboard that slides out from the unit. This keyboard mimics the feel and responsiveness of a traditional gaming keyboard, complete with all the standard keys and functional shortcuts. The RGB backlighting not only adds a touch of style but also enhances visibility in low-light conditions, ensuring that your gaming sessions are both comfortable and immersive.
Handheld games console with full keyboard
Other articles we have written that you may find of interest on the subject of handheld games consoles :
Durability and ergonomics are at the forefront of the SLIDE's design. The device boasts a robust "sandwich" structure that not only reinforces its reliability but also showcases a sleek, screw-free exterior. The ergonomic design prioritizes user comfort, with a spacious keyboard layout, easy-to-navigate keys, and a grip that feels natural in your hands.
Under the hood, the SLIDE is equipped with high-performance hardware that can effortlessly run the latest gaming titles. Its advanced "3+2" cooling system, featuring copper elements and a high-pressure turbine fan similar to those in PCs, ensures that the device stays cool and performs at its best without the risk of overheating. Early bird pricing is now available from just over $700 or roughly £464 offering a considerable 22% saving off the recommended retail price.
AYANEO SLIDE pricing and availability
The SLIDE's master controller elevates the gaming experience with its conductive gel buttons, offering a softer and more responsive touch. The RGB light hall sensing joysticks and redesigned hall triggers provide precise control, adding a stylish touch to the device's functionality. A substantial 46.2Wh battery powers your gaming adventures, and with PD fast charging, you'll be ready to jump back into action quickly.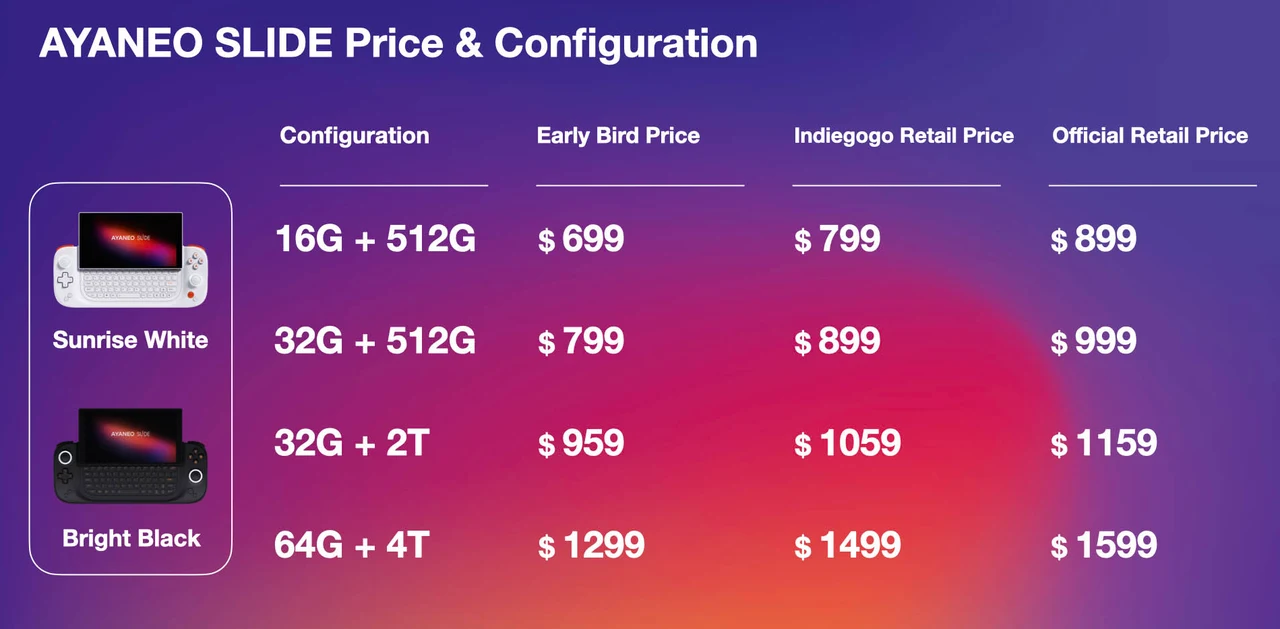 When it comes to pricing and availability, the AYANEO SLIDE is an accessible piece of innovation. With an early bird rate of $699, this handheld console is expected to start shipping in mid-December. Whether you're a hardcore gamer or a tech aficionado, the AYANEO SLIDE promises to revolutionize your perception of portable gaming. By placing your order on Indiegogo today, you can be among the first to experience this exciting new chapter in handheld gaming.
The AYANEO SLIDE handheld games console is more than just a gaming device; it's a statement about where the industry is headed. It's a testament to the power of blending the familiar with the futuristic, of combining the ease of portability with the demands of high-performance gaming. It's a device that respects the roots of gaming while pushing the boundaries of what's possible in the palm of your hand.
As the gaming world continues to evolve, the AYANEO SLIDE stands ready to lead the charge. With its array of features, from the adjustable floating screen to the robust cooling system, it's a device that doesn't just keep up with the times—it sets the pace. So, if you're ready to take your gaming to new heights, to experience the thrill of top-tier titles wherever you go, the AYANEO SLIDE is waiting for you. Don't miss the opportunity to be at the forefront of this exciting journey into the next horizon of handheld gaming.
Filed Under: Gaming News, Top News




Latest aboutworldnews Deals
Disclosure: Some of our articles include affiliate links. If you buy something through one of these links, aboutworldnews may earn an affiliate commission. Learn about our Disclosure Policy.