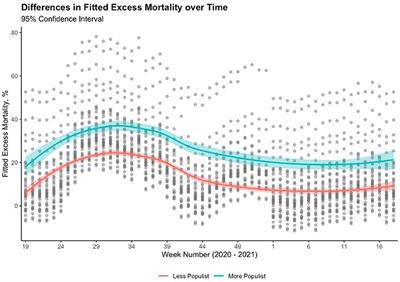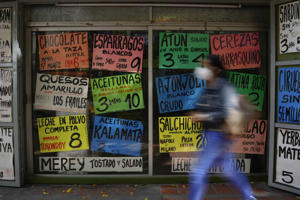 © LA Times Signs offering product prices in US dollars outside a grocery store in Caracas, Venezuela, last year. The Edelman Trust Barometer survey shows that fewer people believe their families will be better off five years from now. (Matthias Delacroix/Associated Press)
In an increasingly divided world, people around the world are more pessimistic than ever about their economic prospects and trust companies far more than other institutions, such as governments, nonprofit organizations and the media, according to a Edelman public relations firm survey. .
The online survey of 28 countries, released Sunday night to coincide with business elites and government leaders meeting this week at the World Economic Forum in Davos, Switzerland, shows that fewer people believe their families will be okay after five years.
Those who believe they will be better off fell from 50% to 40% last year, hitting record lows in 24 countries. In fact, 89% fear losing their job, 74% worry about inflation, 76% about climate change and 72% about nuclear war.
The Edelman Trust Barometer also shows that 62% of respondents view companies as competent and ethical, compared to 59% of NGOs, 51% of governments and 50% of the media. This is attributed to the way companies treated workers during the COVID-19 pandemic and their return to offices, as well as promises by many companies to leave Russia after the invasion of Ukraine.
People always said they didn't trust CEOs, government leaders, and journalists, while they trusted their bosses, colleagues, and neighbors. Scientists are the most trustworthy: 76% of respondents.
"Increasing trust in business creates greater expectations than ever for CEOs to be the leading voice on social issues," said Richard Edelman, Edelman's CEO. "Six respondents want more business involvement on issues like climate change, economic inequality, and rehabilitating the workforce."
However, companies run into conflict when dealing with these issues, with 52% saying companies cannot avoid being politicized when it comes to divisive social issues.
Despite the uncertainty, people want companies to protect them: 63% say they buy or protect brands based on their beliefs and values.
Most respondents say companies should be doing more, not less, to address climate change, economic inequality, and other issues.
According to the survey, social divisions are entrenched, creating a polarized world in which people feel unable to overcome their differences or unwilling to help others who do not share their beliefs.
Less than a third of those surveyed said they would support, live or work with someone who strongly disagreed with their views. Six countries (Argentina, Colombia, the United States, South Africa, Spain, and Sweden) were highly polarized, fueled by mistrust in government and a lack of shared identity.
If divisions are not resolved, people fear further prejudice and discrimination, slower economic development and mob violence, the report says.
More than 40% of those surveyed believe that governments and companies should work together to solve social problems, and the most trusted organization, the company, will be responsible for bringing people together.
The majority of those surveyed, 64%, said that companies that promote the consensus of politicians and the media would help increase civility and strengthen society.
The Edelman Trust Barometer surveyed more than 32,000 people online in 28 countries, from Argentina to Saudi Arabia and the United States, from November 1-28, in its 23rd year.
This story originally appeared in the Los Angeles Times.
Misinformation, polarization and loss of trust