Transform your Raspberry Pi into a powerful tool for radio communication, capable of exploring frequencies that stretch up to an impressive 6 GHz. The CaribouLite Raspberry Pi radio HAT makes this possible, offering a dual-channel software-defined radio (SDR) platform that's both versatile and affordable. This innovative accessory is designed for hobbyists, educators, and researchers who are passionate about radio exploration and innovation.
The CaribouLite stands out with its dual-channel functionality, allowing users to receive and transmit on two different frequencies at the same time. This is particularly useful for complex radio operations, such as managing cross-band repeaters or monitoring multiple bands simultaneously. It's a significant advantage for those who are serious about their radio projects and are looking for more sophisticated capabilities.
CaribouLite RPi HAT
By leveraging the computational power and connectivity of the Raspberry Pi, the CaribouLite RPi HAT enables a wide range of radio-centric projects. Whether you're interested in amateur radio, digital signal processing, or any other radio-related endeavor, this SDR platform provides the necessary tools to dive deep into the world of radio communications.
The CaribouLite Raspberry Pi radio HAT offers access to an expansive frequency spectrum. One channel is dedicated to the 30 MHz to 6 GHz range, while the other focuses on the sub-1-GHz ISM band. This broad coverage invites users to investigate and experiment with a wide array of radio frequencies, making it an invaluable asset for both learning and research. The Raspberry Pi hat is now available to purchase directly from the Crowd Supply website priced from $72.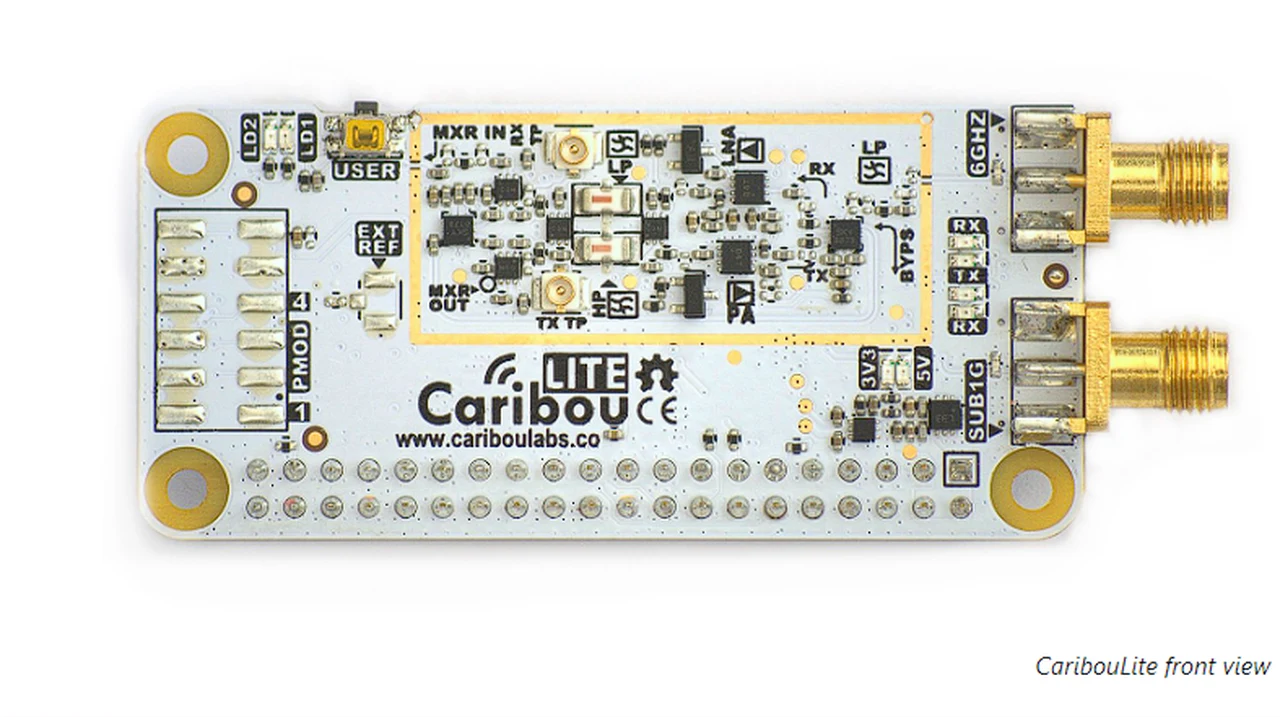 In the spirit of collaboration and innovation, CaribouLite embraces the open-source movement. Users are provided with hardware and software that can be modified and improved upon. This approach not only benefits individual projects but also contributes to a larger community that values shared knowledge and collective advancement in radio technology. It's important to note that CaribouLite offers versions that are designed to stay within regulatory boundaries. This ensures compliance with ETSI and FCC standards, which is essential for developers and third-party users who are creating products that must adhere to strict radio regulations.
Raspberry Pi software-defined radio (SDR) platform
For those who may be new to radio programming or even seasoned professionals, CaribouLite's high-level API support simplifies the development process. The platform is compatible with Soapy, GNU Radio, and Python, providing a streamlined interface that allows users to fully utilize the device's capabilities without unnecessary complexity.
The CaribouLite RPi HAT is equipped with advanced features that will delight radio aficionados. An internal TCXO clock-source guarantees precise frequency stability, a low-noise amplifier enhances signal reception, and robust transmission power increases the operational range. Additionally, PMOD expansion ports are available for those who wish to further customize and enhance the functionality of their device.
Integration with Raspbian is effortless. As soon as you power up your Raspberry Pi with the CaribouLite RPi HAT attached, it is recognized by the operating system, allowing for a smooth start to your radio projects. For advanced users, an EEPROM API is available, enabling customization of the board's configuration to meet specific needs.
The CaribouLite Raspberry Pi radio HAT  is a remarkable example of how open-source technology can transform the capabilities of a simple Raspberry Pi into a high-performance, dual-channel SDR experience. It's an exciting development for Raspberry Pi enthusiasts around the world.
Whether you're a hobbyist looking to explore the airwaves or a researcher in need of a flexible radio platform, the CaribouLite RPi HAT provides the tools and features necessary to take your radio projects to the next level. With this device, the potential for discovery and innovation in the realm of radio communications is vast and waiting to be unlocked. The Raspberry Pi hat is now available to purchase directly from the Crowd Supply website priced from $72.
Filed Under: Hardware, Top News




Latest aboutworldnews Deals
Disclosure: Some of our articles include affiliate links. If you buy something through one of these links, aboutworldnews may earn an affiliate commission. Learn about our Disclosure Policy.