The DUEX Float is an innovative dual laptop screen mounting system is not just a convenient tool, but also an affordable one. Designed to cater to the needs of those who are always on the move, the DUEX Float is a portable monitor system that allows users to work efficiently using multiple screens.
The DUEX Float is more than just a tool for productivity, it's also a solution for achieving ergonomic alignment. Thanks to its stacked design, users can say goodbye to the discomfort of straining their neck and back. The DUEX Float's configuration promotes a healthy ergonomic alignment, making it possible to maintain good posture even while working on the go. Early bird opportunities are now available for the revolutionary project from roughly $199 or £157 (depending on current exchange rates).
"Meet the latest innovation from Mobile Pixels: DUEX Float, a 15.6" portable touchscreen laptop monitor that allows you to easily create a stacked dual-screen configuration no matter where you are! Toggling between tabs, windows, and applications can make us lose, on average, about 10 seconds every five minutes. That adds up to a huge loss in productivity on an average workday."
Dual screen laptop
But the DUEX Float doesn't stop at ergonomics and productivity. It also elevates the user's work and play experience with its intuitive 1080P touchscreen display. The screen's color can be adjusted to protect the eyes during those extra-long work days or late-night projects, making it a considerate companion for the hardworking professional.
One of the standout features of the DUEX Float is its built-in kickstand. This feature allows users to utilize the device independently, without the need to magnetically attach it to a laptop. The built-in kickstand also enables the DUEX Float to be attached to laptops of any size, making it a versatile tool for any user.
"We take pride in our laptop and desktop accessories and aim to offer our customers the highest quality products. So, we're offering a 1-year product warranty to cover any issues with DUEX Float—no questions asked."
The DUEX Float is also equipped with two USB-C ports with pass-through charging, providing users with the convenience of charging devices whenever and wherever they want. Additionally, it features a mini HDMI for laptops or gaming devices with an HDMI connection.
DUEX Float Kickstarter
Assuming that the DUEX Float funding campaign successfully raises its required pledge goal and manufacturing progresses smoothly, worldwide shipping is expected to take place sometime around October 2023. To learn more about the DUEX Float laptop screen project scrutinize the promotional video below.
In conclusion, the DUEX Float is a revolutionary tool that combines convenience, affordability, and ergonomic design. It's a testament to how technology can be designed to cater to the needs of the modern professional, making work and play a more enjoyable and comfortable experience.
"DUO launched on Kickstarter in June 2018 and almost immediately went viral, raising over $1 million on Kickstarter and Indiegogo combined. Since then, our team has launched five additional Kickstarter campaigns for TRIO, DUEX Plus & DUEX Lite, DUEX Max, Geminos and Trio & Trio Max."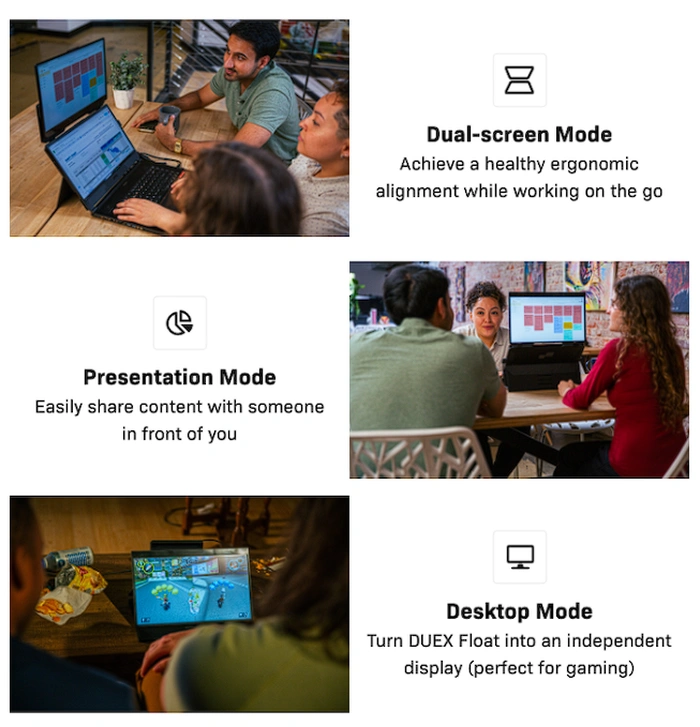 For a complete list of all available early bird specials, stretch goals, extra media and product details for the laptop screen, jump over to the official DUEX Float crowd funding campaign page by visiting the link below.
Source : Kickstarter
Disclaimer: Participating in Kickstarter campaigns involves inherent risks. While many projects successfully meet their goals, others may fail to deliver due to numerous challenges. Always conduct thorough research and exercise caution when pledging your hard-earned money.
Other articles you may be interested in on how to improve your productivity :
Filed Under: Displays News, Top News




Latest Aboutworldnews Deals
Disclosure: Some of our articles include affiliate links. If you buy something through one of these links, Aboutworldnews may earn an affiliate commission. Learn about our Disclosure Policy.