In the world of compact computing, the GMK Tech K4 is making waves as a new Ryzen 9 PC that packs a powerful punch. This diminutive dynamo is powered by the Ryzen 7000 series APU, specifically the Ryzen 9 7948, which currently holds the title of the most powerful APU on the market.
The K4 doesn't stop there. It also boasts Radeon 780m graphics based on RDNA 3, 5600 MHz RAM running in dual channel, and supports up to a whopping 64GB of RAM. This mini PC comes fully equipped with a six-foot HDMI cable, a mounting system, and a 120-watt power supply, ensuring that it's ready to go right out of the box.
The new GMKtec NucBox K4 powerful iGPU Ryzen 9 mini PC
One of the standout features of the K4 is its flexibility. It can be purchased fully configured or as a bare bones model, allowing users to add their own RAM and storage to suit their specific needs. The K4 uses the AMD Ryzen 9 7940HS, based on Zen 4, with eight Zen 4 cores and 16 threads, a base clock of 4 GHz, and a max boost up to 5.2 GHz.
Specifications
Processor: AMD Ryzen 9 7940HS Mobile Processors with Radeon Graphics

Cores/Threads: 8C/16T
Technology: 4nm
Base Clock: 4.0G
Max Clock: 5.2G
Cache:

L1: 512M
L2: 8M
L3: 16 MB

TDP: 35~54W

Graphics: AMD Radeon 780M

Cores: 12
Frequency: 2800 MHz
Architecture: AMD RONA 3 graphics

Memory (RAM):

Shipped: 32GB
Dual Slots: SO-DIMM
Type: DDR5 5600
Max Capacity: 64GB

Storage:

Shipped: 1TB
Slot Type: PCIe 4.0 M.2 2280
Max Capacity: 2TB (supports PCIe 4.0)

Operating System:

Installed: Window 11 Pro
Supported: Linux

Connectivity:

Bluetooth: BT 5.2
WiFi: WiFi 6 RZ608

Display Outputs:

HDMI 2.0 x 2 : 4096×2160@60Hz
Type-C*1 USB4.0: up to 40Gbps, supports USB PD+DP1.4 function

Ports:

USB-A 3.2 (Gen2 x 1 10Gbps) x 3
USB2.0
HDMI 2.0 (4K@60Hz)*2
Type-C full-featured
The front of the K4 is designed with user convenience in mind. It includes a 3.5mm audio jack, two full-size USB 3.2 ports, and a USB 4.0 port using a 40 gigabit protocol. This setup allows for easy eGPU use, making it a versatile choice for a variety of users. The back of the K4 is equally well-equipped, featuring two HDMI 2.0 ports, another USB 3.2 port, a single USB 2.0 port, and a 2.5 gigabit Ethernet port.
The K4 also includes the Radeon 780m iGPU based on RDNA3 with 12 compute units running up to 2800 MHz, Wi-Fi 6, Bluetooth 5.2, and supports Windows 11 and Linux operating systems. This mini PC is a gaming powerhouse, performing well in gaming and benchmark tests. It has the ability to run games like Street Fighter 6, Injustice 2, Mortal Kombat 11, and Forza Horizon 5 at high settings and 1080p resolution.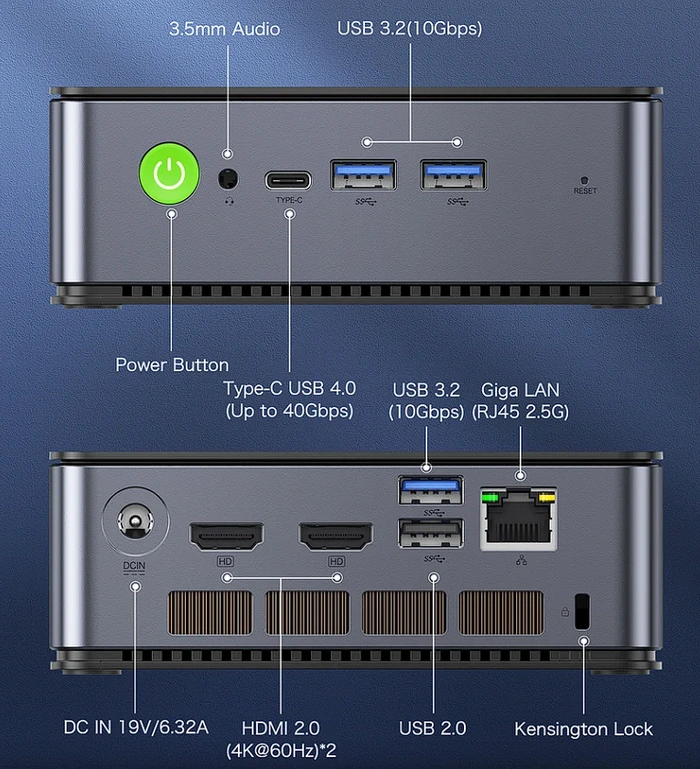 Despite its power, the K4's power consumption is relatively low, with an idle power draw of 11 watts, an average gaming power draw of 67 watts, and a maximum power draw of 79 watts. This makes the GMK Tech K4 the most powerful mini PC offered by GMK Tech, outperforming all of their other models due to its Ryzen 9 7940 HS processor.
In conclusion, the GMK Tech K4 is a small but mighty mini PC that offers power, flexibility, and efficiency. Whether you're a gamer, a professional, or just someone who appreciates high-performance technology, the K4 is a compact computing solution that delivers on all fronts. The AMD Ryzen 9 7940HS NucBox K4 is now available to purchase with barebones systems available from $499.
Source: GMKtec
Filed Under: Hardware, Top News




Latest Aboutworldnews Deals
Disclosure: Some of our articles include affiliate links. If you buy something through one of these links, Aboutworldnews may earn an affiliate commission. Learn about our Disclosure Policy.