The Gyro Spin Spectre Optical Levitating Gyro Spinner stands out as a marvel of engineering and design. This precision-machined gyroscope, crafted from stainless steel, the gyroscope spinning top boasts a levitating optical effect that is nothing short of mesmerizing. The secret to its magic lies in its super-fast ceramic bearings, which allow the spinner to rotate continuously, creating a unique gyroscopic inertia that can be felt in the user's hands.
The Gyro Spin Spectre is not just a toy, but a tool to explore the effects of physics. Its continuously spinning gyroscopic design leads to extra long spin times, allowing users to delve into the mysteries of inertia and momentum. The spinning disk can be manipulated independently from the axle, creating a fascinating interplay of forces that is both educational and entertaining.
Early bird pledges are now available for the creative project from roughly $46 or £39 (depending on current exchange rates), offering a considerable discount of approximately 40% off the retail price, while the Kickstarter crowd funding is under way.
Spinning top
"Hi! I'm Hugo from Ghost Design. Two years ago we brough you Ghost Yo Yo, and you loved it. Last year we brought you Gyro Spin and you loved it even more! So now… We bring you Gyro Spin Spectre. A precision machine Gyroscopic Spinner with a wild optical effect. As it spins at ultra-high speed it looks like it's defying gravity!"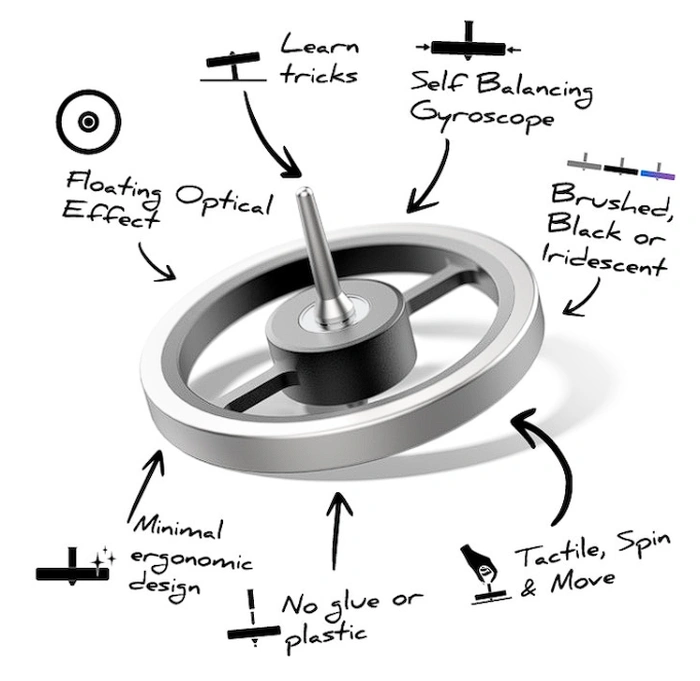 The Gyro Spin Spectre's design is a study in contrasts. The outer ring is made from stainless steel, while the inner frame is crafted from aluminium. This difference in densities between the two materials results in optimal weight distribution, ensuring a long and smooth spin. The spinner's modular design allows for a variety of tricks and experiments, from spinning it upside down to balancing it on a finger, all while seemingly defying gravity.
Gyroscope
The assembly of the Gyro Spin Spectre is a testament to precision engineering. No glue or adhesives are used in its construction. Instead, a precision machined push-fit design is employed, where the two parts are pushed together perfectly under great pressure. This results in a robust and durable spinning top that can withstand hours of play and experimentation.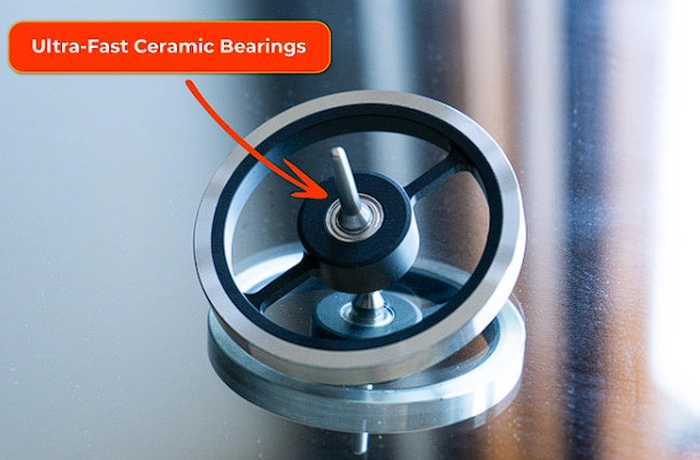 "Through a meticulous prototyping process we have ended up with a truly unique design. Watch in awe as the Spectre seemingly defies gravity and give the illusion of levitation. Two years ago we launched Ghost Design with our first product; the Ghost Yo Yo. Our first campaign went great and we fell in love with Kickstarter. We came back last year with another big project – Gyro Spin."
The bearings used in the Gyro Spin Spectre are the fastest, strongest, and lightest available. Their ultra-low friction allows the spinner to run smoothly and silently for an amazingly long time. The design incorporates two bearings for extra stability, ensuring that the spinner remains balanced even during the most complex tricks.
If the Gyro Spin Spectre campaign successfully raises its required pledge goal and the project completion progresses smoothly, worldwide shipping is expected to take place sometime around December 2023. To learn more about the Gyro Spin Spectre gyroscope spinning top project take in the promotional video below.
USB launcher
The Gyro Spin Spectre is not just for experts. Its ergonomic design makes it easy to spin, meaning anyone can play with it. However, to achieve the longest spin times, some practice is required to build up skill level. This makes the Gyro Spin Spectre not just a toy, but a challenge, a tool for learning, and a source of endless fascination.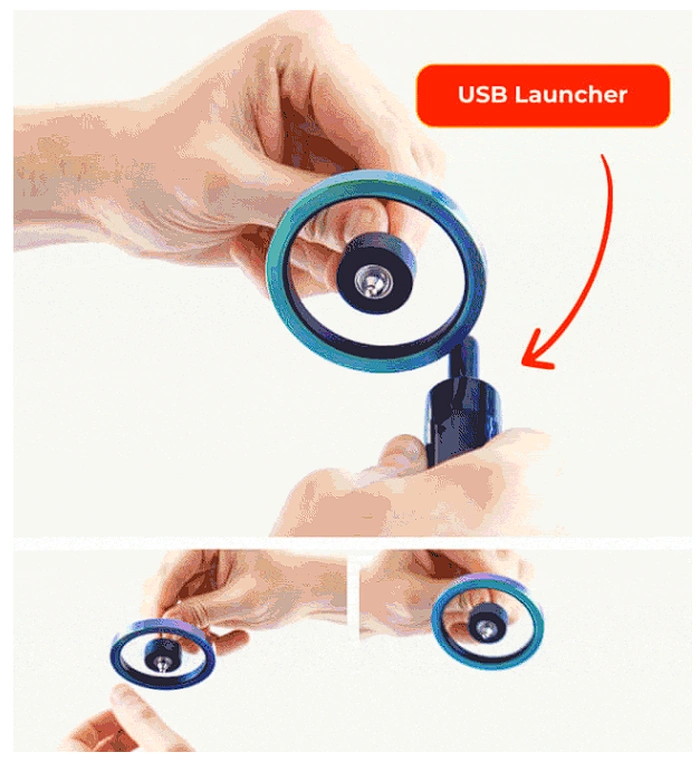 "We are serious about user experience… You'll find a unique tactile experience with a perfect surface finish. You can pick it up, move it or even do tricks and it will remain perfectly balanced. So far the longest spin time we've had with sceptre is just over 5 minutes! Long spin times like this can be easily reached using the USB Launcher add-on or by hand. This is possible because of the 2 ultra-fast ceramic bearings…"
For a complete list of all available early bird pledges, stretch goals, extra media and spec sheet for the gyroscope spinning top, jump over to the official Gyro Spin Spectre crowd funding campaign page by visiting the link below.
Source : Kickstarter
Disclaimer: Participating in Kickstarter campaigns involves inherent risks. While many projects successfully meet their goals, others may fail to deliver due to numerous challenges. Always conduct thorough research and exercise caution when pledging your hard-earned money.
Filed Under: Design News, Gadgets News, Top News




Latest Aboutworldnews Deals
Disclosure: Some of our articles include affiliate links. If you buy something through one of these links, Aboutworldnews may earn an affiliate commission. Learn about our Disclosure Policy.