As a creative black woman who loves changing up my hairstyle, I used to feel limited to sleek updos or basic braids. But discovering whimsical boho braids opened up a world of artful expression for me. Let me share my journey with boho goddess braids, medium box braids, and how these styles unleash my confident spirit!
Boho Goddess Braids for Free-Flowing Vibes
The first time I tried boho goddess braids, I was instantly in love. Big, messy bundles of braided strands draped artfully down my back in a halo of loose waves. Pairing the voluminous locks with flowing skirts and flower crowns, I felt like a free-spirited goddess of nature.
Rather than tightly coiling the braids, my stylist incorporated loose coils and strands woven freely throughout. Sections weren't neatly parted – braids flowed together messily in an effortless, beachy style. Worn down or piled high in a braided updo, these boho braids radiated carefree bohemian energy.
Medium Box Braids for a Low-Maintenance Style
While goddess braids styles unleashed my wild side, medium box braids filled a need for low-maintenance protection. With tidy rectangles braided across my head, these relaxed box braids framed my face in a modern way.
Striking the balance between structured and loose, my medium box braids stayed sleek while allowing messy tousled ends. On busy weeks, they stayed neatly in place yet had enough movement for tousled beach waves. Whether worn straight or half-up in a scrunchie, these versatile braids served functional beauty.
Embracing the Versatility of Protective Styles
Through different braided experiments, I've discovered the true versatility of my natural hair. Rather than conforming to strict styles, protective braids let me play with soft waves, voluminous curls and effortless updos.
Now I feel empowered switching braids for my mood – from bohemian goddess manifestations to comfortably chic medium box styles. My confidence blossoms as I change braids to match my spiritual and practical rhythms.
Channeling My Free Spirit with Boho Goddess Braids
I first took notice of boho braids while researching natural hairstyles online. The effortless mix of chunky box braids blended with tousled waves spoke to my laidback style. 
After consulting with my stylist, we decided to try boho goddess braids to complement my waves and curls. She began by installing chunky box braids as the base, then incorporated loose curls throughout the length.
When she finished, I was thrilled by how perfectly the textured style reflected my easygoing vibe. The artful mix of tight braiding combined with carefree coils gave me an elegant bedhead look.
I felt beautiful channeling my free spirited goddess self through the soft waves falling gracefully down my back. The curly tendrils seem alive, bouncing and swaying with my movements. 
Boho braids let me celebrate my natural curl pattern while projecting youthful confidence. The textured fullness moves freely and frames my features in a chic bohemian crown.
Experimenting with Medium Box Braids
In addition to boho goddess braids, I also wanted to try some classic medium box braids for versatility. The tidy braids would transition well from free-flowing weekends to my professional workplace.
My stylist did an impeccable job parting and braiding uniform sections into a chic medium box braid style. She finishes it off by braiding and styling my edges into delicate waves.
I was pleasantly surprised by how polished the orderly rows made me feel. I could go from a sleek side-parted style for important meetings to a trendy zig-zag braid pattern on weekends.  
The versatility of medium box braids makes me appreciate how diverse black hair can be. With some creativity, I can transform my medium braids to match any occasion or mood.
Unleashing My Bold Goddess Side 
While I love understated boho braids, I also wanted to unleash my inner goddess with an ultra glam style. Scrolling on Instagram, extra long jumbo goddess box braids caught my eye.
I asked my stylist for super chunky goddess braids reaching all the way down my back. She delivered flawlessly, braiding giant sections of hair into gravity-defying works of art.
As soon as she finished, I felt transformed into an African queen by the lavish waist-length braids. The artful volume and density framed my features beautifully while commanding respect. 
Friends couldn't believe the intricate braiding and asked if they were my real locs! The chunky texture reminds me of ornate crowns.
Goddess braids allowed my bold side to shine while celebrating my roots. The regal style boosts my confidence to live fearlessly in my power.
Discovering Confidence Through Versatile Braided Styles  
Boho braids, goddess locs, medium box braids – trying diverse artistic braided styles has empowered me to embrace the full spectrum of my beauty. 
I love being able to transform my look to match my ever-evolving mood and spirit. Whether I'm channeling my carefree goddess or bold queen self, each style tells a story and makes me feel beautiful in a new way.   
The versatility of black hair is a gift. We can honor our glorious crowns by celebrating each style that reflects the divinity within.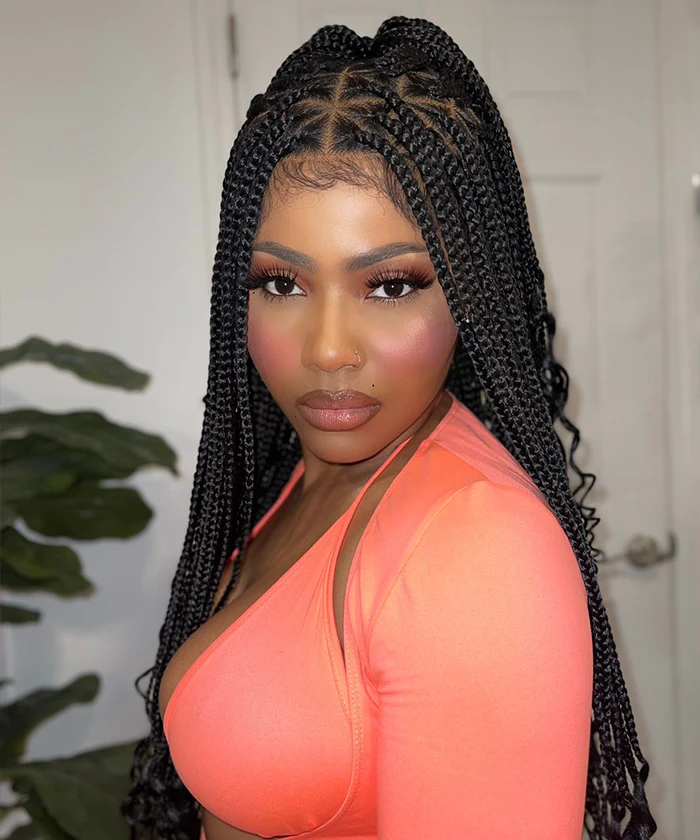 About FANCIVIVI 
In my exploration of braided styles, I came across FANCIVIVI, which offers a beautiful collection of braided wigs designed for the versatile hair needs of black women.
FANCIVIVI's range of synthetic wigs includes gorgeous boho braids with textured curls, bold jumbo goddess locs, and classic box braids in diverse sizes. Their lace frontals allow comfortable, secure wear while their adjustable straps and combs provide a customizable fit. 
After trying FANCIVIVI's high-quality braided wigs designed specifically for black hair textures, I really appreciate how they enable me to quickly switch up styles and showcase different sides of my personality. Their wigs unleash confidence in every woman!