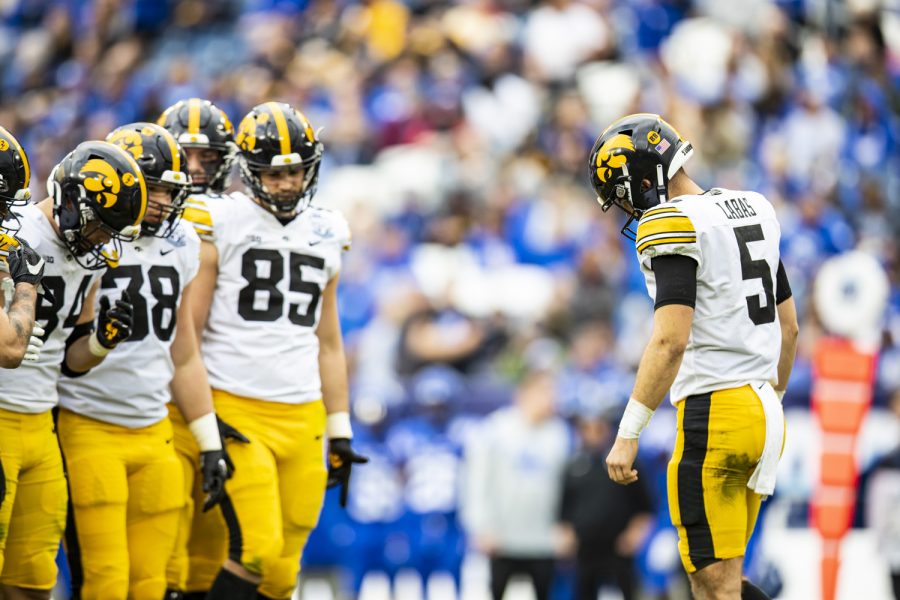 After the Hawkeyes' Music City Bowl win over Kentucky, Iowa football star Jack Campbell learned his grandfather had died.
According to the school, Campbell's parents didn't let him know after the game so he could "play one last time with his Iowa hockey teammates."
Campbell's grandfather, William Smith Jr., has died at the age of 76. According to Nashville broadcaster WSMV, Smith tried to cross the street but was hit by a hotel van around 10:15 p.m. According to Nashville police, "Smith was walking with his family when he decided to cross the road and did not hear his family try to stop him because of the rain."
He was taken to Vanderbilt Medical Center, where he died. Smith is Jane Campbell's father, Jack's stepmother.
"My thoughts are with Jack and the entire family on the tragic death of their grandfather and father, William Smith Jr.," Iowa head football coach Kirk Ferenc said in a statement. "We know that Mr. Smith had a strong influence on his grandson and was a strong supporter of hockey. All of us – players, coaches and staff – are thinking and praying for the Campbell family during this difficult time."
Also Read : Lestikov's thoughts on Iowa's 21-0 win over Kentucky: Exciting, thrilling finish
Campbell played a key role in Iowa's 21-0 win over Kentucky in the Music City Bowl. The senior linebacker recorded 10 tackles (eight solo), two for a loss and a sack.
Earlier this month, Campbell was named the Batkus Award winner, becoming the first hockey player to win the award. Campbell finished the season with the 13th consensus All-American selection in program history.
Adam Hensley is a digital producer for USA Today. You can follow him on Twitter @A_Hens83 or contact him at ahensley@gannett.com.
This article originally appeared on Hawk Central: Iowa LB to play Kentucky in Music City Bowl after grandfather's death
Here's what Iowa State football coach Kirk French had to say ahead of the 2022 Music City Bowl.