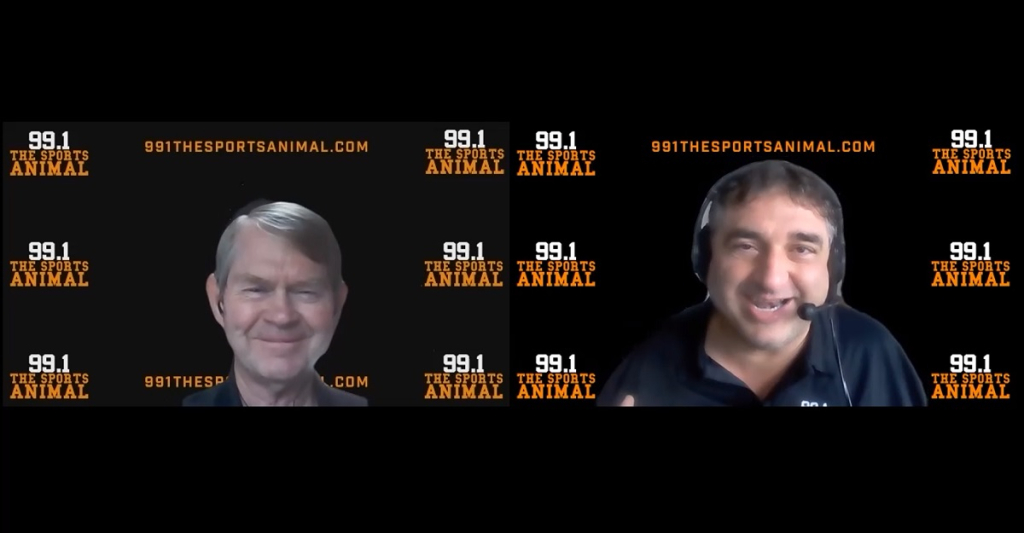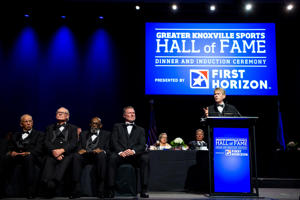 © Brianna Paciorka/News Sentinel 2022 Jimmy Hyams, right, speaks at the Greater Knoxville Sports Hall of Fame induction banquet, Thursday, Aug. 25, 2022, at the Knoxville Convention Center.
My earliest memory of Jimmy Hyams is on the tennis court in Baton Rouge, Louisiana, in 1981.
I am a columnist/reporter for the LSU Morning Advocate, and Jimmy was hired for the same position after excelling as a reporter in our Lafayette office. But after my main playing partner left town, I became more interested in tennis.
We only had time for one set, which Jimmy won, but I saw little potential in his extraordinary game. He returned almost every shot, could hit with both hands, but his first serve didn't have as many hits as his second serve. I walked out of court thinking, "It won't be a big deal."
We played tennis in Baton Rouge for a few years, then continued our career in Knoxville when we merged with News Sentinel in the late '80s. We must have played it 100 times. I won three games.
Knee pain forced me to stop playing tennis over 20 years ago. Jimmy is still playing and probably still beating players who feel better than him. Now that he's retired as athletic director of the WNML, where he's hosted a four-hour sports talk show with John Wilkerson five days a week since 1998, he'll have more time for tennis.
Some people sometimes accidentally call me "Jimmy Hyams", probably a hint of our local Louisiana accent, and I've done enough radio in this market to be recognized.
You probably know him by his best voice. I know him as the best sports presenter. When we rejoined the same newspaper, he was well on his way to becoming one of the best college writers in the country.
Jimmy was also an excellent athlete who excelled in various high school sports in Natchitoches, Louisiana, and later played baseball in college. Anyone lucky enough to be on your team at Scramble benefits from nipples. And his free throws are legendary.
ADAMS: We're going to miss talk show host Roger. The Tennessee Vols ran out of supporters
ADAMS: Two return to Tennessee baseball this season, including Tony Vitello's beard
Calle Ted Martin, who set a world record with 5,200 consecutive free throws, lost two free throw contests to Jimmy in the SEC Tournament. A year later, when Tennessee basketball hosted the conference tournament, UT's Gus Manning told Jimmy that he didn't use St. Louis no. Martin for part-time entertainment.
"If he can't beat you, I don't want him here," Manning said.
When I think of Jimmy retiring to act full time, I don't think of how successful he was. I think more about how we had fun in Baton Rouge for a few years when I was 30 and he was 20.
We support each other by challenging each other because we believe that LSU needs a more critical eye than our leaders. This caused us both to break up.
Some of my good intentions to support Jimmy don't always work out.
He was once assigned to write a story for our annual Louisiana Sportswriters Summer Convention, which included a writing contest and a sports contest. Since our department didn't do well in the writing competition, I suggested that Jimmy give us our best performance. I asked him if he had won anything.
"I missed winning the bowling championship by a pin," he said.
"Well, write it down," I told him.
About an hour later, I sat across from Jimmy as our sports editor read his story.
"Is it from a pin?" church.
I laughed when Jimmy looked at me.
We were sitting next to each other at an NCAA Basketball Tournament press conference when UC Santa Barbara coach Jerry Pimm was onstage. "I read somewhere that he has his own yacht," Jimmy whispered.
Don't say "cruise," they said, because they didn't want Jimmy to be embarrassed. "I'm sure it's just a ship."
Jimmy then asked Pimm about the ship.
"It's actually a ship," he said.
Jimmy looked at me.
In 2017, Jimmy and I stood side by side again at a press conference, this time for UT football coach Butch Jones. I quickly raised my hand, but was repeatedly ignored by moderator Zach Stipe, who was probably worried I was asking Jones the hard questions.
Jimmy asked what he was going to ask. When I told him, he said, "I'll ask too," and raised his right hand.
"Jimmy," Zach said as I kept raising my hand as high as it would go.
Jimmy handed me the microphone as Stipe yelled several times, "No, I said 'Jimmy'." I then asked my question and Jones was embarrassed for outright lying about how Shy Tuttle hurt his eye when he fell on the helmet.
Thanks for the mic Jimmy, sorry about the pen and cruise.
John Adams is the lead columnist. You can reach him at 865-342-6284 or john.adams@knoxnews.com . Follow him: twitter.om/johnadamskns.
This article originally appeared on the Knoxville News Sentinel: The Jimmy Hyams story you didn't know about sports radio Retired | adams
people don't need it