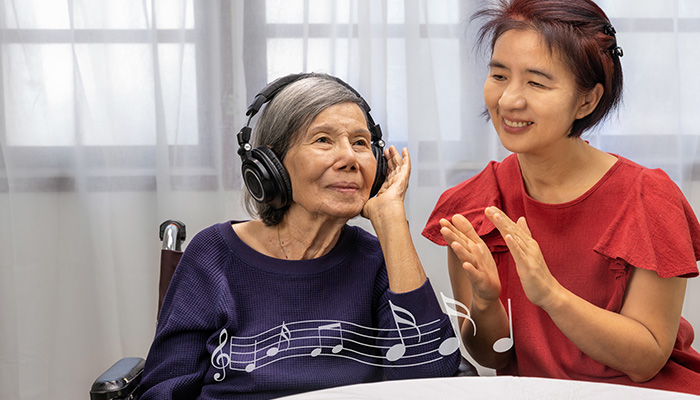 Some things you never quite forget. Your first love, the overwhelming feeling of carrying your first child and definitely not your favorite songs from the past. They made the soundtrack for the first dance with a loved one or the first summer vacation away from the parents. Just listening to these melodies brings the past to life.
The same applies to people with dementia. A project at the Friedrich Schiller University Jena under the direction of Dr. Gabriel Wiltz and the National Association of Statutory Health Insurance Funds deals with the memory power of music. Of course you can send people with dementia on a journey back in time, just as you can send people with intact memories. Whether it's a hymn, church choir, orchestra or grand opera, a favorite song is often associated with an important period in life.
The connection, as described in the WG, has been known for a long time. However, no randomized controlled trials have been conducted to date. Music for People with Dementia: Improving the quality of life and social engagement of people with dementia in organizations has filled this gap with remarkable results.
The Jenna project was carried out in five nursing homes in Thuringia and included 130 residents with dementia. After listening to their favorite music, residents become calmer, happier and more sociable. The project was developed between 2018 and 2021.
Since 2021, the project has been expanded to include people with dementia who are cared for by their families at home.
Bach to Armstrong
It was particularly difficult to find suitable music for older people. With the help of the patients' relatives and memories of their mother's or grandparents' youth, the university staff went into detective mode to put together three music playlists that might work for each patient. The charts include the Thuringian mountaineer's "Das Rennsteiglied", the sea's " Eine Seefahrt, Die Ist Lustig", "What a Wonderful World" by Louis Armstrong and Bach's "Ah! Lord how do I find you?".
"Over 1,000 pieces of music were played in total," says psychologist and project scientist Doreen Rother. Three playlists were compiled for each patient.
For 6 weeks, the seniors listened to their favorite music via headphones and an MP3 player for 20 minutes three to four times a week.
Jena researchers describe how severely damaged patients retain a musical memory. It has long been known that music activates a vast network of the brain. However, it's not the music itself that's useful. Other factors are whether it is related to the listening situation or whether it corresponds exactly to the listener's taste in music.
This explains the effect of favorite songs on older people. The nurses said, "A patient who hasn't spoken in weeks starts laughing." Another nurse said: "During Beethoven's Ninth Symphony, he seemed emotional, folded his hands and shed tears." According to another person, dealing with the elderly has become "much closer and more established". Another nurse said music reduces patients' anxiety, and some "look forward to listening to music throughout the day."
At the same time, there were few negative effects of music. "Very rarely have patients responded to the music with despair or impatience, which led to us stopping," Rother said.
program extension
Music had a positive effect on nursing. The participants became more obedient. "But we don't want to use too much music," confirms Rother. "However, music is an inexpensive, low-risk, and relatively easy-to-use way to improve people's well-being. It can provide a moment of joy, remembrance, or well-being for people with dementia." "
Nurses noticed relaxation and calm in nearly 28% of the elderly, improved mood in 26%, and more frequent responses and social interactions in 13%.
As a good experiment, the patient's favorite music is also played in the home care setting for dementia patients. The use of an app and a tablet would make it easier for relatives and patients to use the method.
"I can't say anything negative about it," said one attendee. "All I can say is that I was so excited about what they had just done to me. Also, I wanted to lift a lot and dance really well."
This article was translated from the German edition of Medscape.
Dementia and the power of music