If you are in the market for a handheld games console the ONEXFLY is definitely worth checking out. This gaming marvel, powered by the AMD Ryzen 7 7840U CPU, is a testament to the power of modern technology. With 8 cores, 16 threads, and a max clock rate of 5.1GHz, this 4nm beast is ready to take on any gaming challenge. The console's cache mastery, boasting 8MB L2 and 16MB L3, fuels unparalleled gaming performance. This is ONEXFLY: the ultimate gaming marvel, where lag-free domination is the norm.
Early bird rewards are now available for the disruptive project from roughly $739 or £582 (depending on current exchange rates), offering a considerable discount of approximately 21% off the list price, while the Indiegogo crowd funding is under way.
The ONEXFLY is not just about raw power. It's also about graphics excellence, thanks to the AMD Radeon 780M graphics and RDNA 3 architecture. With a 50% power boost and a blazing 2700MHz frequency, this console is ready to conquer both gaming and creation with ease. The LPDDR5x memory, running at a scorching 7500MHz, fuels the Radeon 780M GPU for unstoppable performance. This is a console that promises seamless gaming, lightning-fast load times, and supercharged productivity in all high-performance tasks.
ONEXFLY Ryzen 7 handheld games console
With the assumption that the ONEXFLY crowd funding campaign successfully raises its required pledge goal and production progresses smoothly, worldwide shipping is expected to take place sometime around September 2023. To learn more about the ONEXFLY handheld games console project check out the promotional video below.
The ONEXFLY Ryzen 7 7840U handheld games console is not just a powerhouse; it's also a featherweight champion. Weighing in at only 580g, it's lighter than the Rog Ally, yet it packs a punch with a 7-inch 1080p display with a 120Hz refresh rate, customizable RGB name plates, and a sound system tuned by Harman. This handheld gaming device, which launched on Indiegogo and was funded within five minutes, is available in several tiers, with prices ranging from $739 for a model with 16GB of RAM and 512GB of storage, to $1,299 for a model with 64GB of RAM and 4TB of storage.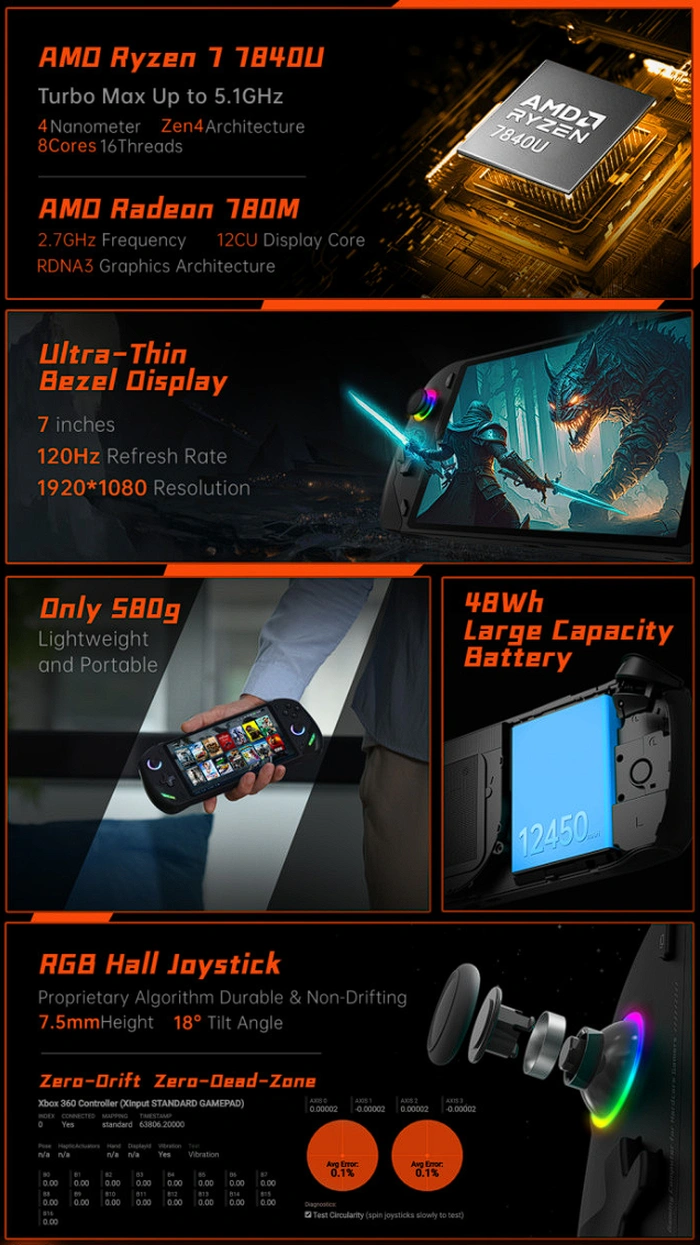 The ONEXFLY has been tested with games like Forza Horizon 5, Street Fighter 6, and Cyberpunk 2077, and has shown impressive performance. It can be connected to a larger display or a dock for a better gaming experience, and can support an e-gpu over USB4 for improved performance. The device is praised for its design, comfort, and audio quality, and is considered a solid choice for handheld gaming.
Despite its lightweight design, the ONEXFLY Ryzen 7 7840U handheld games console boasts a large 48Wh battery, ensuring hours of uninterrupted gameplay. Whether you're embarking on an epic gaming marathon or simply enjoying a quick game on the go, the ONEXFLY's impressive endurance ensures you never miss a beat. This is the future of handheld gaming: powerful, portable, and ready to take on any challenge.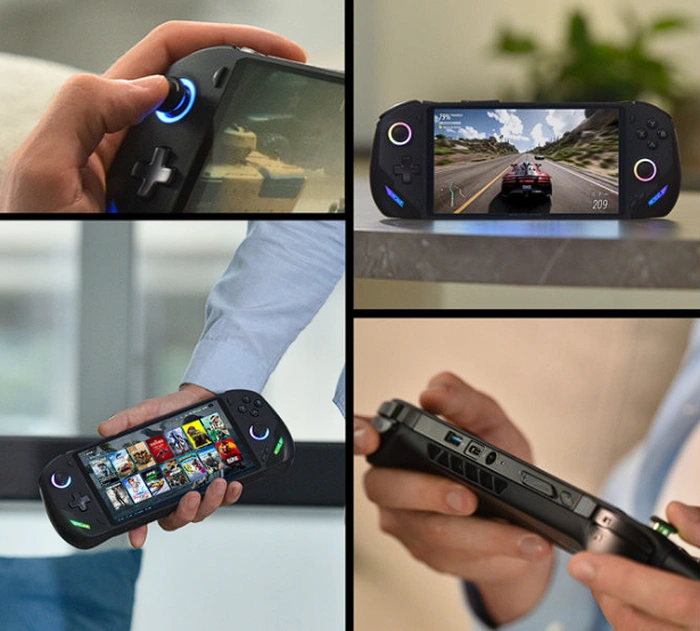 For a complete list of all available campaign pledges, stretch goals, extra media and detailed specs for the handheld games console, jump over to the official ONEXFLY crowd funding campaign page by following the link below.
Source : Indiegogo
Disclaimer: Participating in Kickstarter campaigns involves inherent risks. While many projects successfully meet their goals, others may fail to deliver due to numerous challenges. Always conduct thorough research and exercise caution when pledging your hard-earned money.
Filed Under: Gaming News, Top News




Latest Aboutworldnews Deals
Disclosure: Some of our articles include affiliate links. If you buy something through one of these links, Aboutworldnews may earn an affiliate commission. Learn about our Disclosure Policy.