If you are considering upgrading your large desktop computer to something a little more refined and compact. Or are looking for something a little more portable yet packs plenty of power. You might be interested in the TANK 03 Intel Core i7/i9 performance small form factor gaming PC. Created by Ace Magic the company's engineers have managed to pack the power of a full-sized gaming rig is compressed into a sleek, space-saving package.
At the heart of the TANK 03 lies an Intel i9 CPU with 14 cores, a powerhouse processor that breezes through the most demanding tasks. It's paired with an Nvidia RTX 3080 GPU, a graphics card that's more than capable of handling 1440p gaming at high frame rates. This means you can enjoy your favorite games with smooth, crisp visuals that keep you immersed in the action.
But the Ace Magic TANK 03 doesn't just rely on its CPU and GPU to impress. It's also equipped with the latest DDR5 RAM, which offers faster speeds and improved efficiency over older memory types. This, combined with NVMe SSDs for storage, ensures that your system boots up in a flash and loads games and applications quicker than ever before.
Powerful small form factor gaming PC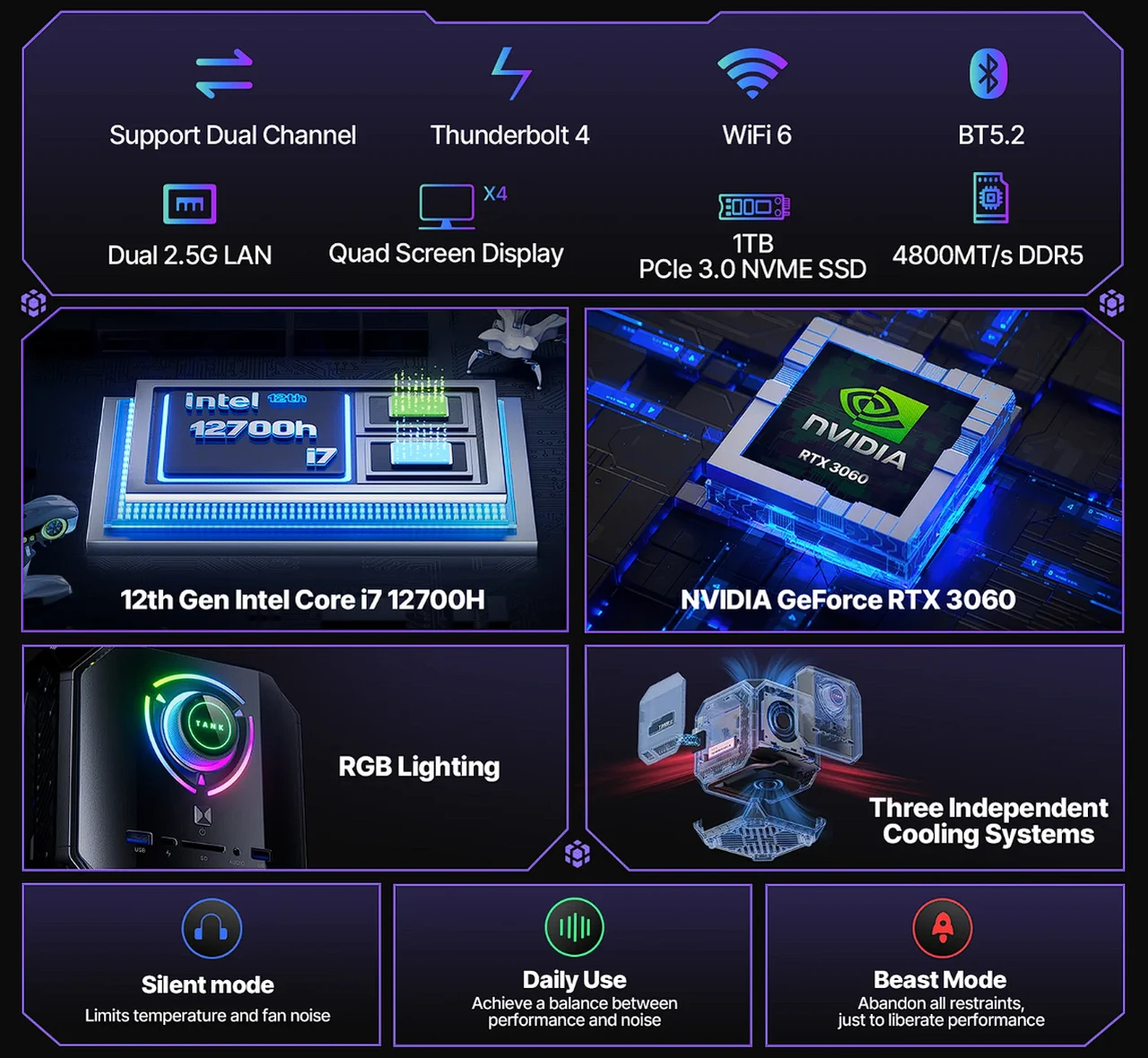 One of the most appealing aspects of the Ace Magic TANK 03 is its ability to be customized in a number of different ways. You're not stuck with a one-size-fits-all machine; instead, you can tailor the configurations to suit your specific gaming needs and budget. Whether you prefer the RTX 3060 or 3070 for your GPU, the choice is yours, allowing you to strike the perfect balance between performance and cost.
Connectivity is another area where the TANK 03 shines. It boasts a wide array of ports, including USB 3.2, an SD card reader, audio jacks, Thunderbolt 4, HDMI, Ethernet, and DisplayPort. This means you can connect all your peripherals without the hassle of additional adapters. And when it comes to future-proofing your investment, the TANK 03 small  form factor gaming PC is designed with easy upgrades in mind, so you can keep your system up to date without any headaches.
A unique feature of this mini PC is the performance knob, which gives you the power to adjust energy settings on the fly. Whether you're looking to maximize performance for an intense gaming session or conserve energy while browsing the web, this feature provides the flexibility to adapt to your current needs.
The TANK 03 powerful compact gaming PC comes preloaded with Windows 11, setting you up for the latest gaming titles and applications. The operating system is complemented by Wi-Fi 6 and Bluetooth 5.1, ensuring a smooth and modern computing experience. Whether you're deep in a gaming marathon, streaming your favorite shows, or juggling work tasks, this mini PC handles it all with ease.
TANK 03 compact gaming PC
It's important to note, however, that the advanced components in the TANK 03 gaming PC do require more power than some other mini PCs. This is the trade-off for the level of performance it delivers, and for many, it's a small price to pay for such a capable machine.
The TANK 03 mini gaming PC is a testament to the evolution of compact computing. It offers high-resolution gaming, a versatile array of ports, and customizable components, all within a space-saving design that doesn't compromise on power. Whether you're an avid gamer or a professional requiring a potent workstation, the Ace Magic TANK 03 is a mini PC that merits consideration.
With its combination of cutting-edge technology, robust connectivity, and dynamic power adjustment, the TANK 03 compact PC stands as a compelling choice for anyone looking to maximize their gaming experience without sacrificing desk space. Its ability to be customized ensures that it can grow with your needs, while its design for easy upgrades means that staying current won't be a chore.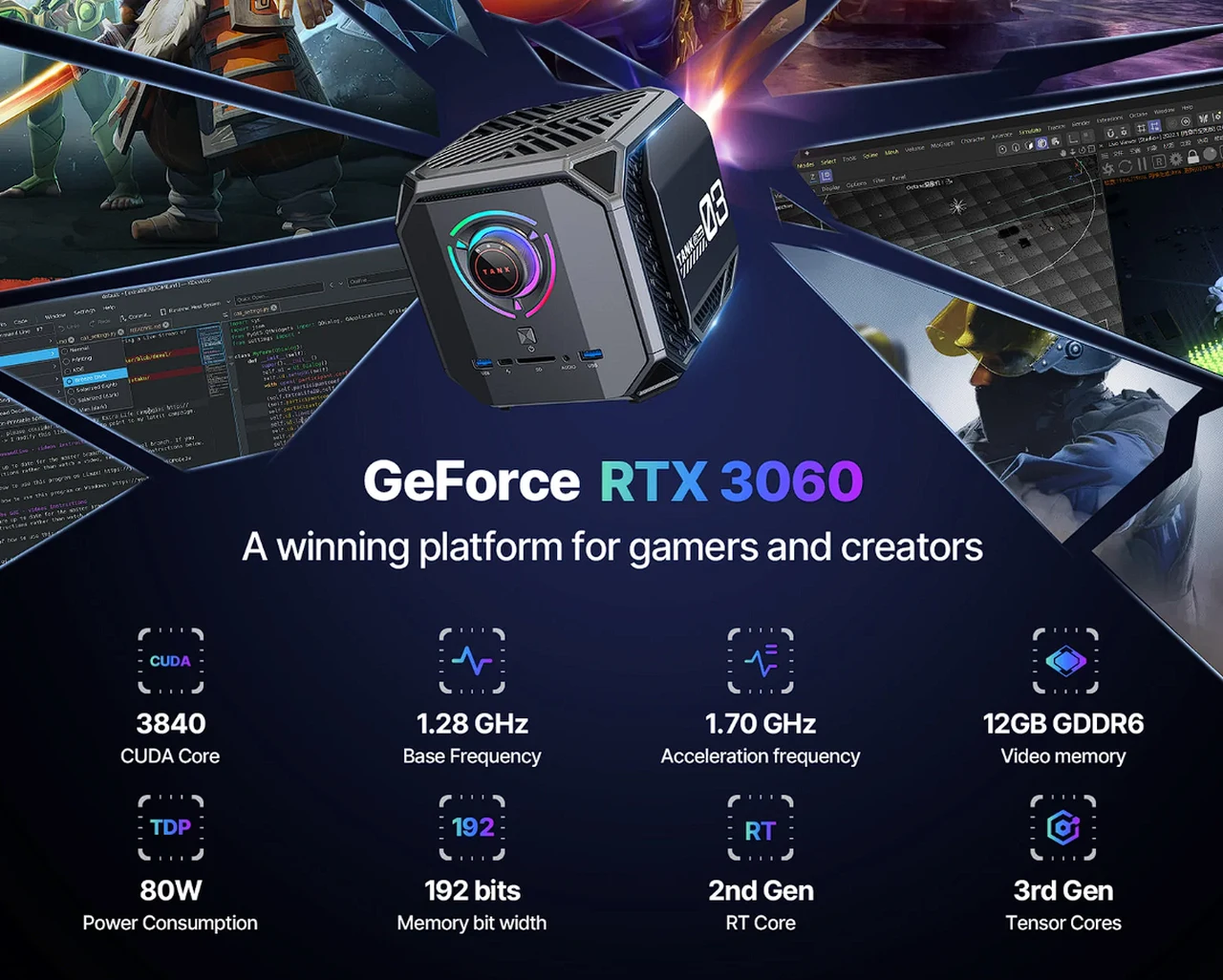 The TANK 03 compact gaming PC is a shining example of how far technology has come, allowing us to enjoy the full power of a gaming rig in a form factor that fits neatly into our lives. It's a machine that doesn't just meet expectations—it exceeds them, redefining what we can expect from a small gaming PC. Whether you're battling it out in the latest AAA titles, creating content, or simply enjoying a movie, the TANK 03 has the power and versatility to handle it all.
So, if you're in the market for a new gaming PC and space is at a premium, or if you just appreciate the engineering marvel of packing top-tier performance into a compact form, the TANK 03 mini gaming PC should be at the top of your list. It's a small machine with big ambitions, ready to take on the world of gaming and beyond.
Filed Under: Hardware, Top News




Latest aboutworldnews Deals
Disclosure: Some of our articles include affiliate links. If you buy something through one of these links, aboutworldnews may earn an affiliate commission. Learn about our Disclosure Policy.