Samsung recently launched its new Galaxy Z smartphone and now it has collaborated with emerging artists on some exclusive accessories for the smartphones with some unique artwork.
Samsung recently launched its new Galaxy Z Flip5 and Galaxy Z Fold5 smartphones and these new accessories were created in collaboration with emerging Korean artists Haydonna, Yeseul O, and Lee Eun.
Haydonna, an artist well known for her dynamic graphics and cheerful style, participated in the design of the Galaxy Z Fold5 case, incorporating her signature "Fluffy Friends" characters. Yeseul O, who creates original art using 3D, augmented reality (AR) and metaverse elements, and Lee Eun, known for her delightful paintings using vibrant colors, each collaborated with Samsung on a Galaxy Z Flip5 case. Yeseul O expresses the value of life's small pleasures through her distinctive character called "Metabun_ny," while artist Lee Eun incorporates messages of encouragement for people into her designs.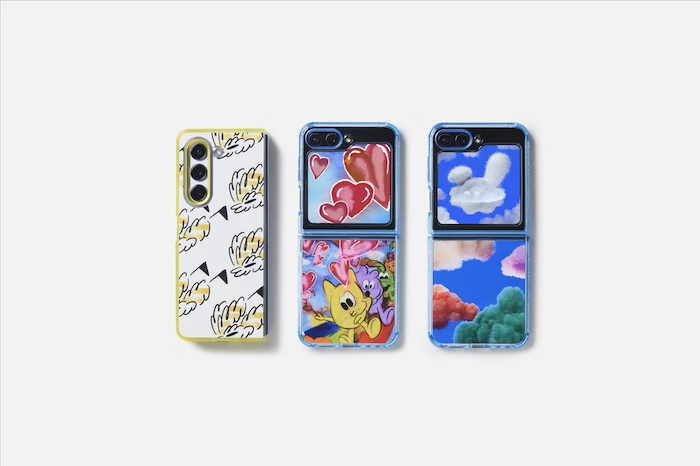 As for the Galaxy Z Flip5, Yeseul O and Lee Eun's artworks are recreated as animated designs using near-field communication (NFC) technology, providing customers with a new and immersive experience. Once users insert the "Flipsuit card" with NFC technology into the case, the image of the card is displayed as an animation on the Flex Window of the Galaxy Z Flip5's external screen.
You can find out more details about this range of exclusive Samsung Galaxy Z accessories for their lartest Galaxy Z Flip5 and Galaxy Z Fold5 smartphones over at Samsung at the link below.
Source Samsung
Filed Under: Android News, Mobile Phone News




Latest Aboutworldnews Deals
Disclosure: Some of our articles include affiliate links. If you buy something through one of these links, Aboutworldnews may earn an affiliate commission. Learn about our Disclosure Policy.