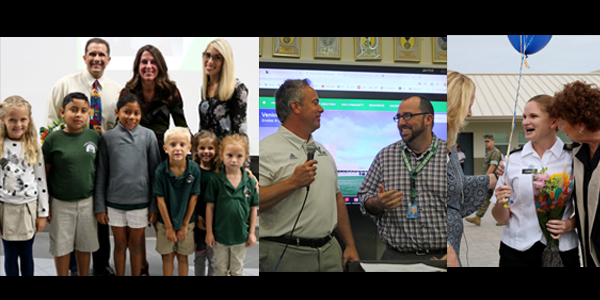 On his first day as a music teacher at Garden Elementary six years ago, Tim Ferguson said he felt like the "oldest kindergarten kid" in the school.
After 15 years as an instrumental music teacher and bandleader in downtown New York, Ferguson and his family traded snow shovels for beach chairs and moved to Venice. The transition from fourth through sixth grade band director to K-5 music teacher meant that Ferguson not only had to adjust to a new school and new classes, but also to an entirely new curriculum.
"It was unnerving to be outside of my comfort zone, but also energized by the opportunity to learn, grow and explore myself," said Ferguson. "When it came time to read something I had never taught, I made it clear to my students that I wasn't going to win American Idol anytime soon, but I wanted to show them that I would always do my thing. Do your best to grow as a singer and learn from my mistakes." Musician and personality because I want it."
In her twenty-first year as an educator, Ferguson, a 2022-23 Sarasota County Teacher of the Year finalist, is grateful for the great responsibility and privilege of teaching K-5.
"I see all the students, 500+ kids, once a week, so I feel like a positive role model and pointing them in the right direction in each class… and it's amazing because you see that growth. "
Ferguson credits his teachers and his mother, a retired music teacher, with nurturing his love of music. In fourth grade he learned the first of many brass instruments, the French horn, and with it his passion for the music that burned as brightly as today he learned to hold the instrument and control its tone.
"As I thought about what I wanted to do in the future, I really thought about the educators who inspired me and tried to emulate them," Ferguson said.
Ferguson received a Bachelor of Arts in music education with a minor in trumpet from Ithaca College in central New York. He later earned two master's degrees in instructional leadership and design and information technology while teaching full-time.
After visiting family in Fort Myers in 2017 and returning home in an April snowstorm, Ferguson and his family were ready to make the big move. He lives in Venice with his wife Kate and their children Ben and Hannah.
In addition to teaching at Garden Elementary, Ferguson is the Director of Education for the Venice Symphony Orchestra, where she oversees all educational initiatives and creates opportunities for youth across the country to develop their love of and express themselves through music.
Ferguson teaches her students to embrace mistakes and the challenges of learning a new tool or concept.
"They learn self-determination through art. And they learn not to give up, develop resilience and perseverance.
It also teaches teamwork and camaraderie. "As a musician, he reminds his students that even if I'm not their best friend, I need to work with someone else. Although we have different beliefs, we must work together."
For Ferguson, teaching music is more than just sharing his passion. She sees art as an integral part of learning life skills, as well as a way to connect subjects and strengthen academic concepts.
Ferguson draws attention to related historical periods and events when discussing musical works. In introducing the trumpet he talks about sound waves and amplitude. Uses fractions when teaching rhythm. He uses math terminology like his name, and when students tell him it's not history, science, or math but music, Ferguson smiles and reminds them how the subjects are connected.
And with the enthusiasm and energy he brings to all his classes, Ferguson exemplifies what he loves most about music: the joy and discovery that come from collaboration and creativity.
Teachers helped plant the seed that would become Tim Ferguson's passion. He plans to do the same.
"If I have a group of six-year-olds in front of me, how do I inspire them with music?
After 20 years, Ferguson has more energy than ever to continue showing his students the power of music. As Ferguson says, "I can't imagine a world where we don't teach art."
The Sarasota County Education Foundation, along with Sarasota County Schools, sponsors the annual Ignite Education Teacher Award. The Education Foundation is an independent charity whose mission is to increase the potential of all students, promote classroom excellence and inspire innovation in education, guided by its philanthropic strategy and the belief that education transforms lives. Learn more at EdFoundationSRQ.org.
This article originally appeared in the Sarasota Herald-Tribune: Sarasota Teacher of the Year: Inspiring a love of music and more.
Why I Love and Hate Living in Sarasota, Florida | Move to Florida