In the world of everyday carry items, the United-1 next generation wallet has made a grand entrance. This innovative wallet, designed in the USA, is a unique blend of style and functionality that caters to both the minimalist and the preparedness enthusiast. It's not just a wallet, but a statement of lifestyle, a testament to the user's taste and personality.
The United-1 EDC wallet is a marvel of design, combining the convenience of a carabiner with the practicality of a wallet. It can be openly clipped onto belt-loops, bags, and even water bottles, ensuring it never gets lost. The wallet also tethers easily inside any bag, providing quick and convenient access to essentials. Early bird pledges are now available for the imaginative project from roughly $59 or £47 (depending on current exchange rates).
"Say hello to the GPCA United-1 Wallet – the ultimate EDC card wallet, seamlessly integrating your work X life essentials. A sleek, versatile card carry solution, that keeps you moving effortlessly through your day. No more digging or fumbling – it's like having a trusty sidekick for urban jungles. You're always one step ahead with United-1 Wallet from CA & TX."
The ID Card Holder, with its flex and band design, can accommodate anywhere from one to nine cards and cash. On the opposite side, an open frame allows for easy access to frequently used cards such as IDs, transit passes, business cards, or coffee loyalty cards.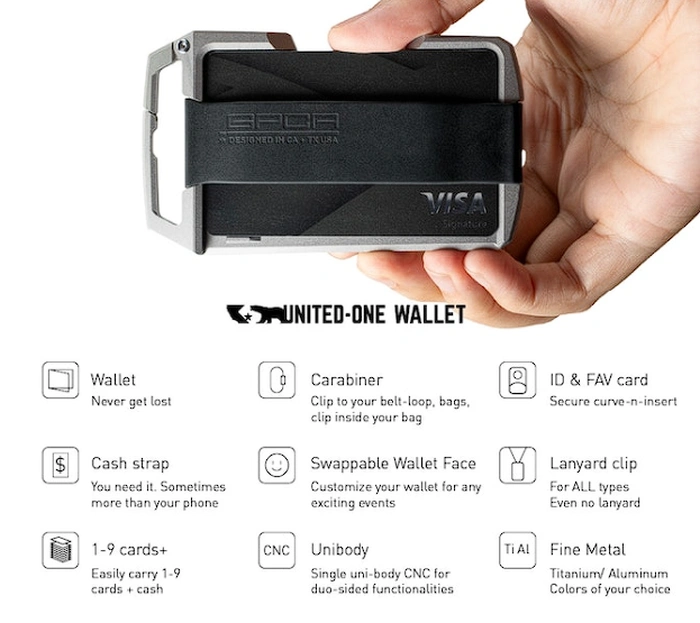 Despite its many features, the United-1 wallet maintains a razor-thin profile. At only 0.3" (8mm) thick, it's just 0.08" (2mm) thicker than the cards it holds. This sleek and minimal design, crafted from high-quality materials, exudes professionalism and elegance. It's a wallet that users can rely on, day after day, with the added peace of mind of a lifetime warranty.
"Our design is a harmonious blend of aesthetics, catering to both males and females. It embodies versatility, ensuring everyone can enjoy its practicality and style. Whether you're rocking a professional look or embracing casual chic, this wallet effortlessly complements every wardrobe."
The United-1 wallet is compatible with all lanyard types, offering unparalleled freedom. Whether you prefer a single clip, double clip, or no lanyard at all, this wallet embraces it all. For those who value privacy, the wallet can be flipped around to keep personal details hidden when leaving the office.
Assuming that the United-1 funding campaign successfully raises its required pledge goal and the project completion progresses smoothly, worldwide shipping is expected to take place sometime around March 2024. To learn more about the United-1 next generation EDC wallet project assess the promotional video below.
The built-in clip secures the wallet inside bags or on MOLLE anywhere, ensuring easy access and rock-solid security. Whether on urban missions or off-road escapades, essentials are always within reach, making every journey a breeze.
The ID/Card side of the wallet allows for effortless scanning of IDs and access to public transport cards. The open frame also makes it easy to slide in a favorite credit card or Starbucks card, eliminating any fuss.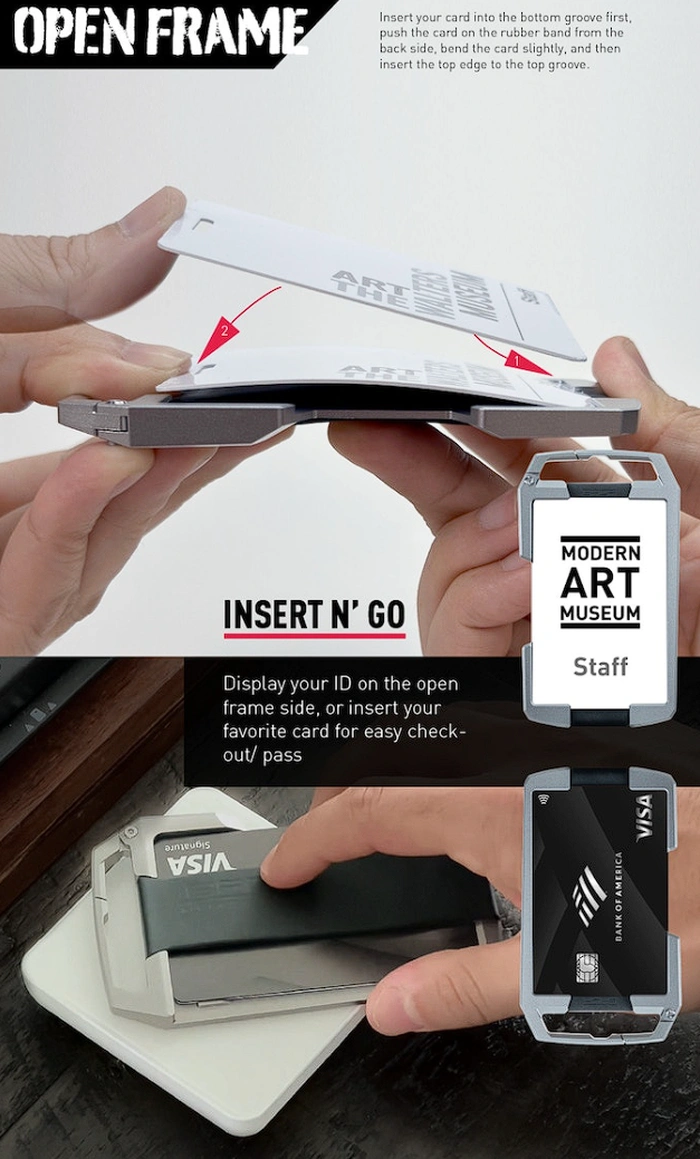 But the United-1 wallet isn't just about practicality. It's also about personal expression. Users can give their wallets a unique personality with card skins, prints, or any standard credit card size cards they love. They can mix and match, switch it up for any occasion, and show off their style, from sleek to wild. With the United-1 wallet, everyday carry becomes a canvas for creativity, a chance to spice up the routine and embrace the fun.
For a complete list of all available pledge options, stretch goals, extra media and feature breakdown for the next generation EDC wallet, jump over to the official United-1 crowd funding campaign page by visiting the link below.
Source : Kickstarter
Disclaimer: Participating in Kickstarter campaigns involves inherent risks. While many projects successfully meet their goals, others may fail to deliver due to numerous challenges. Always conduct thorough research and exercise caution when pledging your hard-earned money.
Other EDC gadgets you may be interested in :
Filed Under: Gadgets News, Top News




Latest Aboutworldnews Deals
Disclosure: Some of our articles include affiliate links. If you buy something through one of these links, Aboutworldnews may earn an affiliate commission. Learn about our Disclosure Policy.