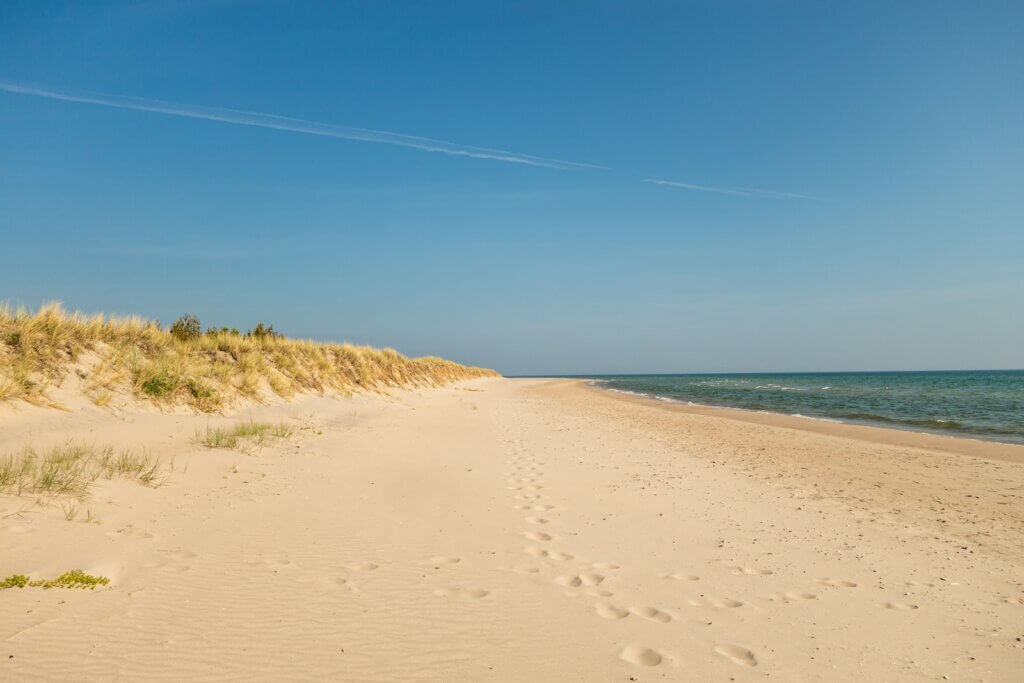 There are many reasons to fall in love with Gotland. Best of all, the Swedish island is the setting for Act Two. Beloved by the Swedes, but less known in the rest of the world, the Baltic Sea resort seems to be not only a place of slow life and delicious fresh food, but also a center of new projects, new passions, renaissance and revival.
"I was sick of board meetings and wanted to get away from Nasdaq life," says Bjorn Westerholm, the former fintech investor who opened the luxury hotel Grå Gåsen . Three years ago with his wife Cecilia, who worked in Human Resources in Stockholm. "This is Life 2.0," he continues. "Knowing our past lives, we couldn't go to the beach. We don't get bored here because we work with young people."
Many of these young men can be found in the hotel's restaurant, which is housed in a barn from 1750. It offers local and highly imaginative interpretations of classics such as the B. Gotland Negroni made with goat's whey, black currant leaves and locally distilled gin from Gotland spirits, and the 'lobster roll' Swedish" with herring and bokrona (anchovies).
Next door, the owners of Three Pheasants, an eclectic bed and breakfast, have a similar story. Born in South Africa to British parents, Gerry MacLean worked for The Economist and other publications as a financial correspondent in Asia for 25 years, where fellow Swede Josefina Bergsten produced human rights documentaries. They're now in Gotland, tending a large sustainable garden and chatting with guests as they prepare their daily hearty breakfast. His three-bedroom B&B is decorated with an impressive art collection and artifacts from his years of traveling in Africa, Uzbekistan, China and Indonesia.
They like Gotland because it has "good tourism. It's away from the cities, with a quieter lifestyle and international visitors who are generally more interested in the places they visit and try to make a lighter footprint."
Likewise, Salthamn is a second-best operation to owner Jacqueline Raymond, who has had a successful career in show restaurants in Stockholm, serving up to 600 people on big nights out. Now he's doing something much simpler: a sustainable place for crops and gardens that people can enjoy, whether eating straight from plants in the fields or enjoying a fire-cooked dinner in the kitchen.
The project is the second chapter after the location itself, as in its previous incarnation it was Raymond's father's mink farm. "I turned it from a place of death into a place of life," he says.
He's not the only one trying to drastically improve something bad. Brothers Peter and Johansson use leftovers to make gin, limoncello, and other drinks for adults. Gotland spirits It's one of the few distilleries in the world that produces its base spirits using "the stuff we get for free," especially carbohydrate-rich foods like stale bread, crackers, cereal, and potatoes. When a famous Swedish chef found himself embroiled in a Mario Batali-level scandal, they ended up with a bunch of worthless (brand name) rigatoni. Get a firm Negroni now!
Leftovers play an important role in the island's other gastronomic activity. Climate scientists Magnus and Anneli Wendeberg were so concerned about their research that they stopped writing their white papers in Germany and instead moved to Jutland and set up a regenerative goat farm; creamy
Climate change seems to be on many people's minds. Italian winemaker Andrea Guerra planted the Långmyre vineyard with his Swedish partner Emma Serner in 2018 because they had doubts about the long-term viability of southern European vineyards. (His wines show good potential, but he needs a few more years to develop.)
Owner Lilla Bjers, who just won an EU organic award for her fresh produce displayed in a plant-filled, sun-soaked greenhouse, is less scrupulous. "We have to stop fishing for just five years," he says, "to restore ocean ecosystems." The practicality of this thought is debatable, but his conviction is admirable and his decision not to serve fish respectable. And the quality of the vegetarian menu ensures that guests will never be short of animal protein.
There's less dogma at Stelor, the 17th-century stone house where chef Linus Strom, trained in several Michelin-starred cuisines, has a simple motto: "Don't buy food" from foreigners. Mare Majstre has similar ideas, as evidenced by its cheese and raw food platters and its popular summer barbecue range.
There are these kinds of passionate projects all over the island, where there are more microbes per capita than anywhere else in Sweden. "We do it because we're stupid," jokes Carl Anderson, who runs Snausarve Brewery with his wife, Nina Schultz. There, they brew Belgian-style beer, but above all, exactly what they want. If you get access to their tasting room in the barn, there's a good chance you'll like what they like, too.
There are several other wineries on the island as well as small distilleries, including Elisabeth Hellstrom, who was born on the island and grew up in a hotel in the north of the island that her father ran. He was intrigued by the idea of ​​distilling his island flavor, and the result was Hellström Gin , an award-winning juniper spirit infused with island botanicals.
Perhaps the island's most daring dreamer is Callie Ewald, who was born and raised on Jutland (and more importantly, credits on the surrounding watery slabs) and decided about five years ago to create a slow utopia of wind and kites at sea. His Hotel Surflogiet currently has 11 entertainingly spacious tents with custom furniture, an abundance of oriental rugs, lighting and internet, and one of Sweden's most luxurious elements: the comfortable, luxuriously furnished Hästens Bed on the sand.
4K Scenic Drive – Ekstakusten, Gotland, Sweden