Turtle Beach has unveiled its latest innovation, the Atom Mobile Game Controller, specifically designed for iPhone users. This highly anticipated gadget is slated to hit the market next month, promising to revolutionize the mobile gaming experience for iPhone users.
"The Atom magnetically fuses into a convenient, compact shape to fit in your pocket, or in the included carrying bag. Plus, an ergonomic handle shape and console-style controls provide a familiar console experience to mobile. The Atom connects to your iPhone via low-latency Bluetooth connection and the two independent modules are connected via proprietary 2.4 GHz wireless link. "
The Atom Controller, a compact and portable mobile gaming controller, boasts a unique two-piece design that seamlessly fits all iPhone models from the 11 series up to the latest 14 series. This innovative design allows the controller modules to communicate wirelessly using Turtle Beach's proprietary 2.4 GHz wireless link. This ensures a lag-free connection to iPhones via low-latency Bluetooth, providing gamers with a smooth and uninterrupted gaming experience.
iPhone mobile games controller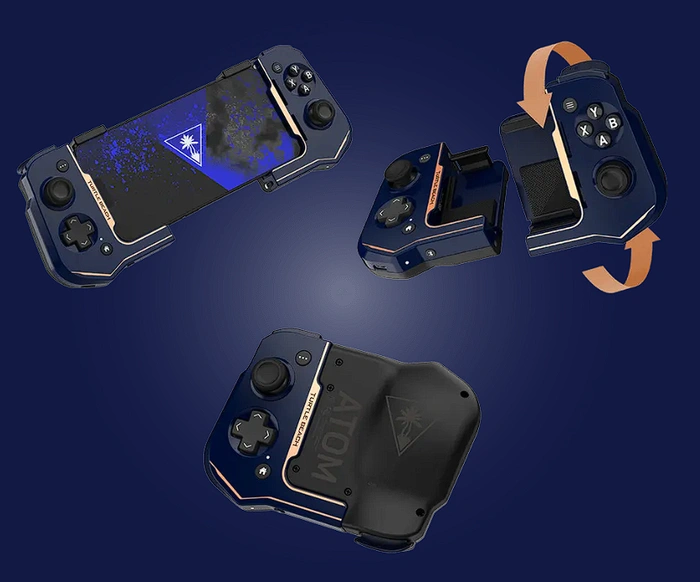 One of the standout features of the Atom Controller is its compatibility with cloud gaming on various platforms. Whether you're an Apple Arcade enthusiast, an Xbox Game Pass subscriber, a GeForce Now user, or a Steam Link gamer, the Atom Controller has got you covered.
"Each controller module is powered by its own battery cell, giving you 20-hours of total battery life on a single charge. When it is time to charge, the Atom quickly recharges in just 2.5 hours using the supplied USB-C cable. "
The controller modules have been designed with the user's convenience in mind. They can be magnetically combined for easy storage and portability, making the Atom Controller a perfect companion for gaming on the go.
The Atom Controller for iOS comes in a striking Cobalt Blue colorway and is available for pre-order for $79.99. This controller promises to deliver a console-style experience for mobile gamers, complete with ergonomic handles, full-size thumb sticks, a D-Pad, bumpers, triggers, and ABXY buttons.
With a 20-hour battery life and a full charge time of just over two hours, the Atom Controller ensures that gamers can enjoy extended play sessions without worrying about battery drain.
In addition to the controller itself, Turtle Beach Corporation is set to launch an Atom Controller companion app for iOS. This app will allow gamers to configure additional features and search for new games, further enhancing the user experience. The Atom Controller for iOS is set to launch on September 11, 2023, and preorders are now open at a price of $80. become a game-changer for iPhone users worldwide.
For more information and full specifications jump over to the official Turtle Beach current page by following the link below"
Source: Turtle Beach
Filed Under: Apple iPhone Accessories, Top News




Latest Aboutworldnews Deals
Disclosure: Some of our articles include affiliate links. If you buy something through one of these links, Aboutworldnews may earn an affiliate commission. Learn about our Disclosure Policy.