In our busy lives, we look for products that can keep up with our dynamic needs, and the Titanium Multifunction Bookmark Pen is crafted to do just that. It's not just a pen; it's a multi-tool designed to be an indispensable part of your everyday carry collection. This pen is made from Grade 5 titanium, a material known for its incredible durability and lightness. This means that the pen can withstand the rigors of daily use without weighing you down. Its slim design is intentional, allowing it to double as a bookmark, so you can easily keep your place in any book or journal. This is a pen that's built to last and to be by your side, day in and day out.
One of the most annoying things that can happen is reaching for your pen only to find it's run out of ink at the worst possible moment. With this pen, that frustration is a thing of the past. It uses eternal ink technology, which means you'll never need to refill it. Whether you're jotting down notes, sketching out an idea, or signing important documents, you can rely on this pen to provide a continuous and dependable writing experience.
BookBond multitool
Early bird pledge levels are now available for the inventive project from roughly $45 or £36 (depending on current exchange rates), offering a considerable discount of approximately 23% off the retail value, while the Kickstarter crowd funding is under way. But this pen isn't just for writing. It's been carefully designed with dual-scale rulers etched onto its body, providing both imperial and metric measurements. This feature is perfect for when you need precision at your fingertips, whether you're in a meeting or working on a project. It's a pen that adapts to your needs, no matter where you are.

The versatility of this pen extends even further. It has an angled edge that can be used as a pry tool, which is handy for opening packages, removing stickers, or when you need a bit of leverage. The removable titanium clip is not just for attaching the pen to your pocket or notebook; it can be used for other purposes as well, making this pen a true multitool.
Portability is key when it comes to the items you carry with you every day. That's why this pen has been designed with an integrated keychain hole, so you can securely attach it to your keys, bag, or lanyard. It's always within reach, and you won't have to worry about losing it. This pen is meant to move with you, wherever you go.
EDC BookBond  titanium multitool
If the BookBond campaign successfully raises its required pledge goal and manufacturing progresses smoothly, worldwide shipping is expected to take place sometime around February 2024. To learn more about the BookBond multitool project scrutinize the promotional video below.
Even in low-light conditions, this pen stands out. It features glow-in-the-dark tritium vial slots, which emit a soft glow, making the pen easy to find in the dark. Whether it's on your nightstand or in a dimly lit workspace, you'll always be able to locate your pen.
The anticipation is building for the November 2023 Kickstarter campaign, where this innovative tool will be introduced to the world. The Titanium Multifunction Bookmark Pen is more than just an accessory; it's a thoughtfully designed tool that offers a range of functions to support your daily activities.
This pen goes beyond what you'd expect from a writing instrument. It's a comprehensive tool that not only writes but also measures, assists, and is always at your side. Its robust construction, multifunctional features, and ease of carrying make it a must-have for anyone who values efficiency and preparedness. Keep an eye out for its launch and consider adding this tool to your daily routine to enhance the functionality of your everyday carry collection.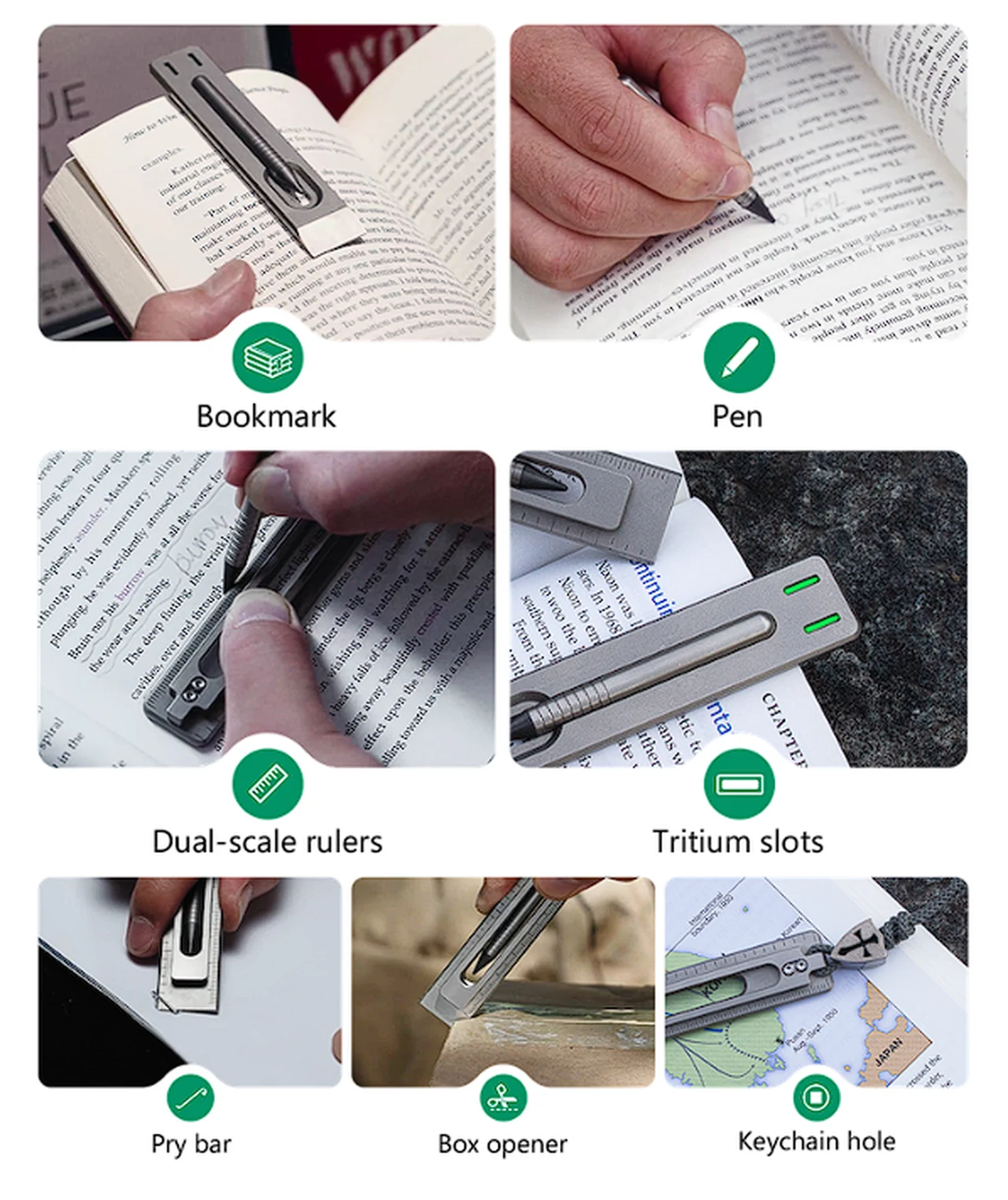 The Titanium Multifunction Bookmark Pen is a testament to intelligent design and multifaceted utility. It's a tool that's ready to tackle a variety of tasks, making your life a little bit easier and a lot more organized. Whether you're an avid reader, a busy professional, or someone who appreciates the value of a well-made tool, this pen is designed to meet your needs. It's a small but mighty addition to your EDC that promises to deliver performance and reliability day after day. So, as you gear up for the challenges of your daily life, consider how the Titanium Multifunction Bookmark Pen could fit into your world, keeping you prepared for whatever comes your way.
For a complete list of all available early bird specials, stretch goals, extra media and specifications for the multitool, jump over to the official BookBond crowd funding campaign page by going to the link below.
Source : Kickstarter
Disclaimer: Participating in Kickstarter campaigns involves inherent risks. While many projects successfully meet their goals, others may fail to deliver due to numerous challenges. Always conduct thorough research and exercise caution when pledging your hard-earned money.
Filed Under: Gadgets News, Top News




Latest aboutworldnews Deals
Disclosure: Some of our articles include affiliate links. If you buy something through one of these links, aboutworldnews may earn an affiliate commission. Learn about our Disclosure Policy.